Tories must seek new leader now, says donor Alexander Temerko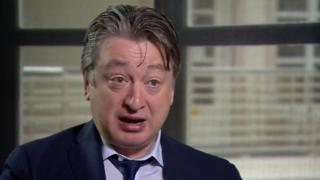 The Conservatives must start the process of selecting a new leader now, says a major party donor.
Alexander Temerko says Theresa May must be allowed to remain in post until Brexit has been delivered.
But he warns bad results for the party in next year's local elections would trigger fresh leadership speculation.
And rather than being forced into a hasty decision or a "coronation" it made sense to start the search as soon as possible, he argues.
Mr Temerko, a Ukrainian-born British businessman who has donated more than a million pounds to the Conservative Party and its candidates in recent years, is calling for a "radical" shake-up of the party to give ordinary members a bigger say over policy.
'Good caretaker'
"Regrettably, today the Conservative Party is going through a deep crisis," Mr Temerko told BBC News, citing falling membership and a "lack of democracy".
"We can no longer hide the fact that we have problems with the party leadership."
He described Mrs May as a "good caretaker" but said she could not lead the party into the next general election.
"Therefore we must start the process of finding a new leader now and it is important to elect this leader by way of democratic vote with no coronation or other tricky methods," he added.
He said the crunch could come next May, with English local elections.
"If we lose these elections, which is a possibility, then a change of leadership will be of critical importance again but this time it will be requested not only by backbenchers but by the majority of the party," he said.
"And this time again we will either have to find a new leader in a hurry or continue to support a lame duck slowly approaching the edge."
Fresh talent
He called for a new party chairman, to replace Sir Patrick McLoughlin, and co-chairmen to be elected by party members, a process which he said would allow potential leadership contenders to set out their credentials.
Mr Temerko, a former senior executive of Russian oil giant Yukos, is now a director of Aquind, a Newcastle-based firm behind a planned £1.1bn underwater electricity line linking the UK with France.
He has previously backed Foreign Secretary Boris Johnson as the next Conservative leader, but he now believes the party has to give fresh talent the opportunity to make their case.
Last month's Conservative Party conference in Manchester was overshadowed by leadership speculation, with senior figures and activists expressing concern about the state of the party in the wake of its disappointing general election result.
In a post-mortem of the campaign, former minister Sir Eric Pickles said the party urgently needed to increase its number of activists, to combat a resurgent Labour Party.
The party has promised to give members more of an input into policy, something that is currently decided by the leadership.