Peer wants review of Sir Edward Heath abuse investigation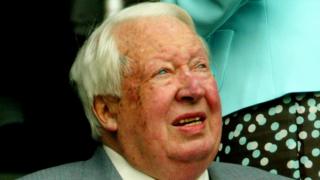 Sir Edward Heath's former private secretary has called for an independent review into the handling of child sex abuse claims against the politician.
Operation Conifer concluded that the former Tory prime minister would have been interviewed under caution over seven historical accusations.
But Lord Armstrong said Wiltshire Police's report meant "the cloud of suspicion remains".
The government said any review would be down to the local crime commissioner.
Allegations against Sir Edward, which formed part of the two-year investigation, included the alleged rape of an 11-year-old.
However, police said no inference of guilt should be drawn from the want to question under caution.
'The dead deserve justice'
Lord Armstrong told the House of Lords: "Edward Heath's reputation has been under a cloud of suspicion since August 2015, when an officer of the Wiltshire Police made an ill-judged public appeal outside Sir Edward's house for victims of child abuse - by Edward Heath and others - to come forward and make themselves known to the police.
"The report of the investigation published more than two years later does nothing either to justify or to dispel that suspicion."
Calling on the minister of state for the home department, Baroness Williams, to launch an independent review into the investigation, he added: "As he is dead, the normal provisions and processes of the law are not available to resolve the matter and the cloud of suspicion remains hanging in the air indefinitely.
"My Lords, justice delayed is justice denied, the dead deserve justice no less than the living."
He received backing from Lord Lawson, who also called for a review into the "grotesque misuse of large sums of public money" by the investigation.
But Baroness Williams said it was not for the government to intervene in police matters and the only elected official able to set-up a review would be the local police and crime commissioner.
"Operation Conifer is an independent police investigation," she said. "It is not appropriate for government ministers to comment on an operationally independent investigation.
"I think the public would rightly be complaining if allegations were brought forward that were ignored by the police.
"I can see the sensitivities on all sides of the House... but nonetheless if an allegation is brought forward, the police must investigate it."