Diplomats owe £105m in congestion charges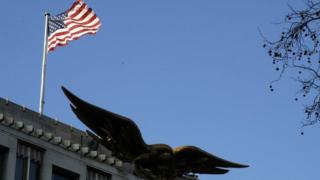 Foreign diplomats owe more than £105m in congestion charges in London, the foreign secretary has said.
The US embassy owes the highest amount - £11.5m - in congestion zone fees, which were incurred between the charge's introduction in 2003 and December 2016.
In 2016, 4,311 parking fines had been issued to embassies, totalling at least £430,126, the Foreign Office said.
After payments and some amounts that were waived, £327,962 remains unpaid.
In a written ministerial statement, Boris Johnson said the Foreign Office had held meetings with "a number of missions" about the outstanding debts.
There has been a longstanding dispute over the US embassy's bill because the Americans treat the congestion charge as a tax, so diplomats need not pay it.
Mr Johnson said the issue of unpaid fines was raised in introductory meeting with all new ambassadors and high commissioners and officials also pressed the matter.
He said: "In April this year, Protocol Directorate wrote to diplomatic missions and international organisations concerned giving them the opportunity to either pay their outstanding debts, or appeal against specific fines if they considered that they had been issued incorrectly."
---
Highest unpaid congestion charge bills
US - £ 11,544,455
Japan - £ 7,629,370
Nigeria - £ 6,481,620
Russia - £ 5,603,320
India - £ 4,991,125
---
It was also revealed that, in 2016, 12 "serious and significant offences" had allegedly been committed by people entitled to diplomatic immunity.
These were defined as crimes that could carry at least a 12-month prison sentence.
Eight of the 12 offences were driving related, including drinking and driving and driving without insurance.
Three offences - actual bodily harm, possession of a class-B drug with intent to supply, and possession of an offensive weapon - were allegedly committed by a Libyan diplomat.
An offence of sexual assault had been recorded against someone employed by the European Bank of Reconstruction and Development, the ministerial statement said.
The government said most of the 22,500 people entitled to diplomatic immunity in the UK abided by the law.
"The number of alleged serious crimes committed by members of the diplomatic community in the UK is proportionately low," Mr Johnson said.
---
Highest unpaid parking fine bills
South Sudan - £83,215
Nigeria - £30,024
Saudi Arabia - £19,202
Republic of the Sudan - £17,985
Zambia - £11,220
---