Young people 'not engaged' in local elections, Electoral Commission warns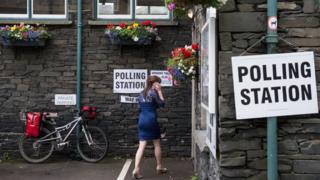 Young people are not getting engaged in local council elections - despite an increased turnout at the general election, a watchdog has warned.
The Electoral Commission said there was a "stark difference" in how informed people felt at May's local elections and the general election a month later.
It also said there was a "clear disparity" between young and old about how informed they felt.
The commission has released details of surveys taken after the 2017 elections.
According to its research, young voter engagement in June's general election had improved since 2015, with a higher turnout and increased awareness.
It added: "Nevertheless, we also found strong evidence of a continuing lack of engagement, particularly among young people, with the local elections."
The local and mayoral elections took place in parts of England, Scotland and Wales on 4 May. This followed elections to the Northern Ireland Assembly in March.
"Turnout in May was significantly lower than it was in both March and June," the commission said.
"Even among those who claimed they knew a great deal or a fair amount about the elections in May, our findings indicate that real knowledge of the local government elections was limited."
---
What are local elections?
In local elections, people vote for who they want to represent their area on their local council. These people are called councillors, and might represent a political party or be independent.
Councillors make decisions on local services like waste collection, social care, leisure centres and road maintenance. In some areas people also elect a mayor to make decisions covering the town, city or region.
Councils raise money to cover their spending through council tax, and councillors vote each year on how much this should be.
---
Nearly half of 18 to 34-year-olds said they did not have enough information to make an informed decision, the commission said, adding: "More work must be done to ensure that all voters have access to information about these elections and who they can vote for, and that they use that access."
Its report also said 79% of people felt the general election was well-run overall.
On voter registration, it said most people backed the commission's proposal for automatic enrolment when people received their National Insurance numbers aged 16, the report said.
The Electoral Commission's Voting in 2017 report was based on surveys with over 6,000 members of the public following the polls in March, May and June.