EU nationals 'quite easy candidates' for removal after Brexit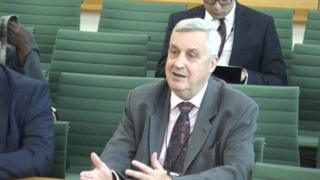 There is a risk that EU nationals could become easy targets for deportation after Brexit, a former senior Home Office official has warned.
David Wood told MPs Brexit could result in a "whole group of potential illegal immigrants that there wasn't before".
He said he was worried that EU nationals overstaying their visas could become "quite easy candidates for removal" due to pressure on resources.
Ministers say they want the three million existing EU residents to stay.
The future rights of EU citizens living in the UK and British citizens living elsewhere in the EU, and how they will be enforced in law, is one of the major sticking points in the current Brexit negotiations.
EU citizens resident in the UK for more than five years will be required to apply for "settled status" while others who have arrived more recently will have time to "regularise" their status.
While the government has said free movement will end with the UK's exit in March 2019, it does not envisage any major upheaval in immigration rules during the two-year transitional period that is expected to follow.
The only major change during that time will be that EU nationals entering the country will be expected to register.
Mr Wood, a former policeman who was deputy chief executive of the Border Agency and then director general of Immigration and Enforcement, said the UK's exit from the EU was likely to put "additional pressure" on the UK's borders in terms of the time it would take to process new arrivals.
"I guess the end game will be... the EU becomes, in immigration terms, the rest of the world," he told the Commons Home Affairs Committee.
"It is only a matter of 10 to 20 seconds per person wandering through, but that will cause considerable pressure on the border."
Mr Wood, who retired in 2015, said he believed the Home Office would be able to handle processing millions of applications for settled status, but said it would require extra resources from elsewhere in Whitehall.
'Over-concentration'
Of more concern, he said, would be the authorities' approach to EU workers and students who overstayed their visas once any new permanent system legislated for by Parliament came into force.
"If they overstay that, they go into this illegal community," he said. "I think that is a bit of a worry going forward, because with pressure on resources they will be quite easy candidates for removal from the UK, quite frankly.
"With pressure on enforcement teams and removal numbers, there might be an over-concentration on simple-to-remove Europeans and more harm-based cases are left.
"That is certainly a worry to me if the resources aren't there."
But John Vine, the former chief inspector of borders and immigration, said he saw Brexit as a chance to review and improve the "fundamentals" of the current system.
"I think it is a great opportunity to look afresh at a strategy that is presumably based on whatever is agreed as part of the Brexit negotiations," he told MPs.
"That strategy should be looked at in terms of what resources we need to support that strategy and what structures we need to ensure we have a fair system but one that consistently applies the rules both in terms of entry to the UK, and visa applications as well."