Margaret Thatcher: How PM was briefed on Sex Pistols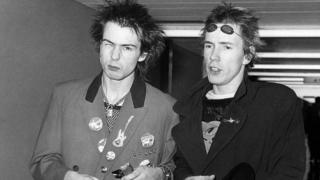 Margaret Thatcher was briefed on the Sex Pistols and other punk bands in preparation for an interview with Smash Hits, newly released papers show.
The PM was told she "may not enjoy" the 1987 interview but must show she was "still in touch with youngsters".
Her officials described punk as a "very basic musical style featuring a strange bunch of anti-establishment acts".
The papers also reveal Mrs Thatcher's closest aide urged her not to fight another election after her 1987 win.
In the aftermath of her third straight victory, Charles Powell urged the Conservative leader "not to put herself through it again", saying her "place in history" would soon be secured and he did not want to see her subjected once more to "unbelievable" levels of personal abuse.
"In two or three years' time, you will have completed the most sweeping change this country has seen in decades and your place in history will be rivalled in this century only by Churchill," he wrote.
"That's the time to contribute to some other area!"
Although Baroness Thatcher ultimately won a third term in 1987 with ease, the latest batch of her private papers - whose phased release is being overseen by the Churchill Archive Centre at Cambridge University - shows tensions among her close advisers over campaign tactics, as Labour appeared to gain ground in the polls.
One of the more unusual interviews that the Tory leader did in the run-up to the election was with the best-selling pop magazine, Smash Hits.
In advance, she was warned that she may be asked "superficial questions which betray a lack of understanding" but the title had a huge circulation and she must appear "confident and relaxed".
"You may not enjoy this interview," the briefing stated. "The challenge of the interview will be for you to demonstrate that just because you are not part of the pop scene, you are still in touch with youngsters and understand their needs."
In preparation, Mrs Thatcher was briefed about current chart acts and also given a short history of punk music, despite the fact it had long petered out as a commercial and cultural force.
"The punk era which hit the music world between 1976-1978 was a very basic musical style featuring a strange bunch of anti-establishment acts, most famous of which were The Sex Pistols with songs such as God Save The Queen and Anarchy In The UK," the note read.
"Other punk acts such as The Clash and The Damned were popular for a while but when the Sex Pistols split up in 1978 the style died out, to be replaced by the current technological musical era featuring computers, synthesizers and videos."
Historian Chris Collins, from the Margaret Thatcher Foundation, said she would have known about the Sex Pistols, as the band rose to prominence in the late 1970s when she was leader of the opposition, a period in which she had more time to follow "what was in the papers, on TV and so on".
"I think she was fairly clued up," he said. "No 10 probably prudently estimated her knowledge of these things as zero and they wouldn't therefore get it wrong."
Baroness Thatcher eventually quit Downing Street in November 1990 after 11 years as prime minister, following a revolt by Conservative MPs.
Reflecting on his "unusual" letter to the PM in 1987, her former private secretary and foreign affairs adviser Lord Powell said he did not recall the prime minister indicating at the time whether she intended to fight another election following the gruelling 1987 campaign.
But he said she told him there was "as yet no suitable successor" to her "although several thought they were".
Speaking on Tuesday ahead of the official release of the letter - which was co-written with his wife Carla - he said he was distressed at the toll that a third election had taken on the prime minister's health and performance and he "wanted to discourage her in her own interests from any inclination to go 'on and on'".
He added: "In light of subsequent events, my advice to her looks pretty sound."