What does the future hold for the Greens?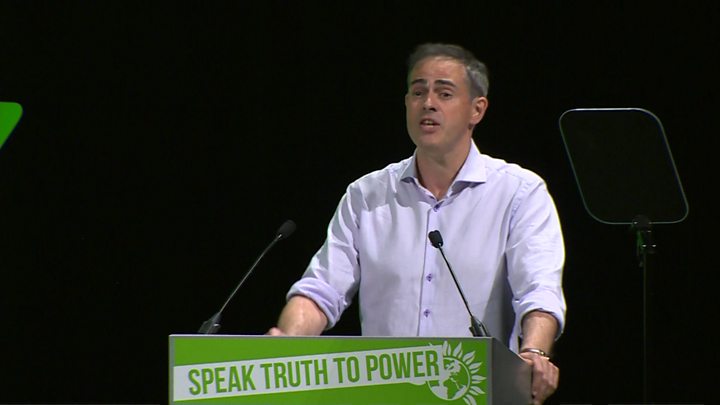 At a meat-free conference in the pretty surrounds of Harrogate, Green Party members have been digesting their disappointing election result in June, when they polled around 525,000 votes - half their previous tally - and ended up with a vote share of just 1.6%.
But while the mood among the few hundred delegates gathered in Yorkshire is reflective - it's certainly not despondent.
Yes, party members admit, the snap election caught them off guard and they were squeezed by Jeremy Corbyn's resurgent Labour party, whose agenda encroached on territory previously claimed by the Greens.
And there has been considerable debate about whether the party was right to stand aside 22 candidates in marginal seats to give Labour or the Lib Dems a clear run at trying to beat the Tories.
One of those candidates told me she thought Green voters should have been able to choose the party they wanted to, and that anyone prone to making tactical choices would have done so anyway.
Another described the decision as "surrender" - seeing as there was no real payback from Labour or the Lib Dems by coming out strongly for electoral reform.
There are others though (including the leadership) who believe the hung parliament was, in part, a consequence of the Greens not fielding candidates in certain seats - and that it demonstrated a spirit of co-operation among parties.
But generally - across the conference, there is a sense of optimism that the Greens do still have a place and a role.
"Speaking truth to power" was the slogan of co-leader Jonathan Bartley's speech. He said that from opposing fracking to being anti-austerity, the Greens had consistently set the agenda and their ideas were now "common currency".
On issues such as tackling climate change, he said the Greens' "voice of truth" had never been more important.
And there was his commitment to a second Brexit referendum - on the final deal agreed with Brussels, a passionate defence of free movement of people and a claim that Britain's future was better in the EU.
But the party also wanted to make a case for a new economy - a Green economy - with people and the environment at its heart.
His speech on Monday was a morale-boosting address - to rally the troops and reassure them the Greens are still relevant.