UK 'firmly committed' to upholding Iran nuclear deal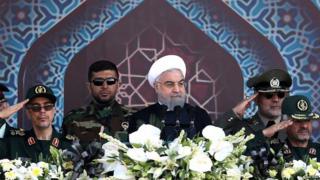 Theresa May has reaffirmed the UK's strong commitment to the deal with Iran designed reduce its nuclear programme.
During a phone call with her Israeli counterpart, the prime minister said the deal "neutralised the possibility of the Iranians acquiring nuclear weapons for more than a decade".
However, the UK's stance could leave it at odds with the United States.
President Trump is expected to announce soon he will not recertify that Iran is in compliance with the deal.
US media say the president will announce next Thursday that he will not be certifying the deal, on the grounds it does not serve US security interests.
Should that happen, the US Congress would then have to decide whether or not to reapply sanctions or demand further action by Iran.
Downing Street said that in a phone call on Monday, Mrs May had agreed with Benjamin Netanyahu that the international community should push back against what she called "Iran's destabilising regional activity".
But she did not repeat the White House's demand that this behaviour should be considered as a whole alongside the nuclear deal, which came into force in October 2015.
"They discussed Iran, with the prime minister noting the importance of the nuclear deal with Iran which has neutralised the possibility of the Iranians acquiring nuclear weapons for more than a decade," a Downing Street official said.
"The prime minister said the UK remains firmly committed to the deal and that we believe it is vitally important for regional security.
"The prime minister said it was important that the deal is carefully monitored and properly enforced, and that both sides deliver on their commitments.
"They agreed that the international community needed to be clear-eyed about the threat that Iran poses to the Gulf and the wider Middle East, and that the international community should continue working together to push back."
President Trump has lambasted the Iran deal as the worst of its kind ever struck by a US administration.
In his first speech to the UN last month, he said the deal was an "embarrassment" and labelled Iran as a "economic depleted rogue state".
BBC diplomatic correspondent James Landale said the dispute could leave Britain at odds with one of its closest allies on a hugely important issue of foreign policy.
During their conversation, Mrs May and Mr Netanyahu also discussed trade issues and security co-operation in the fight against terrorism.