Baroness Trumpington: Lords stalwart to retire at 95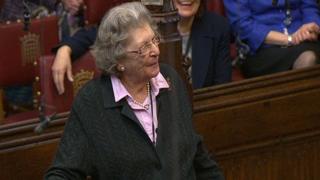 Baroness Trumpington, one of the most redoubtable and best-known members of the House of Lords, is to retire.
The Conservative peer, who will leave the Lords on the day after she turns 95 this month, has been a fixture on the red benches for nearly four decades - first joining the Lords in 1980.
Her personal and political lives read like a chronology of 20th Century history and she has caused quite a stir in Westminster in recent years as well.
---
Privileged childhood
She was born Jean Alys Campbell-Harris in October 1922.
Her father, Arthur, was a major in a regiment attached to the Bengal Lancers who had served as an aide-de-camp to the viceroy of India. Her mother, also called Jean, was an heiress of American origins.
Brought up in London in considerable privilege, her parents moved in a fashionable set which included the then Prince of Wales, later the Duke of Windsor, and his paramour Wallis Simpson.
Her parents lost everything when her mother's fortune was wiped out in the 1929 Wall Street Crash.
But her family soon bounced back, her mother becoming a successful interior designer while her father worked his way from office boy to director at a paint company. In her 2014 memoirs, Coming Up Trumps, she said "we used to say my mother's idea of being poor was going to the Ritz on the bus".
---
Land Girl and Bletchley Park
As a land girl during World War II, she worked on the farm of the former prime minister David Lloyd George in Surrey.
The famously amorous politician - she calls him an "old goat" - once stood her up against a wall and tried to take all her measurements, but got no further.
Her facility with languages - she was fluent in French and German - then took the 18-year-old to the heart of the secret war, working as a cypher clerk at Bletchley Park, transcribing messages from German submarines for the code breakers, who were stationed in another part of the park.
She has described the work as "deeply tedious" and tiring but spoke of some of the compensations, such as spending weekends with her friend, the newspaper proprietor and government minister Lord Beaverbrook and partying at legendary West End watering-holes like the 400, the Embassy and the Bagatelle.
---
Politics and working for Maggie
After a spell in the United States, where she met her future husband, the historian and schoolmaster Alan Barker - she returned to the UK, settling in Cambridge.
She first dipped her toe into the world of civic politics, being elected as a Cambridge councillor in the early 1960s. She later served as the city's mayor in 1971-72.
In 1980, she was ennobled in Margaret Thatcher's first honours list, going on to serve under her and her successor John Major in a number of junior and middle-ranking ministerial roles.
She attributed her good relationship with Mrs Thatcher - she has said she she "owed everything" to the late prime minister - in part to her willingness to stand up to her.
"We got on terribly well," she reminisced in an interview in 2014. "In a funny way, she used me because I was never going to agree with her if I didn't agree with her and so arguing gave her somebody else's point of view."
---
The Lords and that gesture
She is a staunch defender of the House of Lords, describing calls for its abolition as "utter rubbish", and has done much to enliven proceedings during her time there.
In 2011, she made a two-fingered gesture at fellow peer Lord King - a moment which "went viral".
She had taken exception at remarks by the former defence secretary suggesting veterans of World War Two - of which she was the last remaining member in the Lords - were getting "pretty old".
Speaking afterwards, she said she had meant the gesture but tried to pretend "her hand slipped" - and despite the ensuing kerfuffle was assured the two remained "jolly good friends".
The exchange introduced Baroness Trumpington to a wider audience outside Parliament and she was soon appearing on programmes, including Have I Got News For You, Backchat and the Great British Menu.
It also won her extra acclaim in the press with the Oldie naming her peer of the year in 2012, describing her as a "stalwart of the old school and robust champion of the senior citizen".