Boris Johnson tells Tories to 'get behind' Theresa May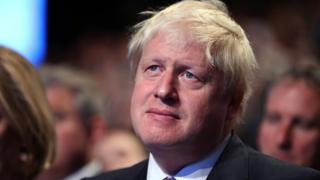 Foreign Secretary Boris Johnson has urged colleagues to "get behind" the PM because "people are fed up with this malarkey".
In a WhatsApp message he urged Tories "talk about nothing except policies".
It comes after ex-party chairman Grant Shapps said about 30 Tory MPs backed his call for a leadership contest.
The party's leader in Scotland, Ruth Davidson, said it should "get its house in order", back Theresa May and "let her get back to governing".
Ms Davidson said critics should "put up" and "shut up", adding that the calls were not led by anyone "serious".
---
The message read:
Folks I am away but just read all this!
See amber piece this am
She is right right right
We have JUST HAD AN ELECTION and people are fed up with all this malarkey
Get behind the pm. Ordinary punters I have spoken to thought her speech was good and anyone can have a cold
Circle the wagons turn the fire on Corbyn and talk about nothing except our great policies and what we can do for the country
---
The prime minister has said she has the "full support of her cabinet".
Speaking on Friday, she insisted she was providing the "calm leadership" the country needed.
Nigel Evans MP, of the Tory backbench 1922 committee, said Mr Shapps's "sniping" was doing the party "no favours" and could have a negative impact on Brexit negotiations.
Dismissing supporters of a plot to oust Mrs May as "the coalition of the disappointed", he told BBC Breakfast: "Any talents he thinks he's got he should really now direct towards backing Theresa May on the difficult negotiations on Brexit."
Former leadership contender Andrea Leadsom also gave her support to the PM, telling BBC Radio 4's Any Questions: "Like a lot of my colleagues have said today, [Mr Shapps] should shut up."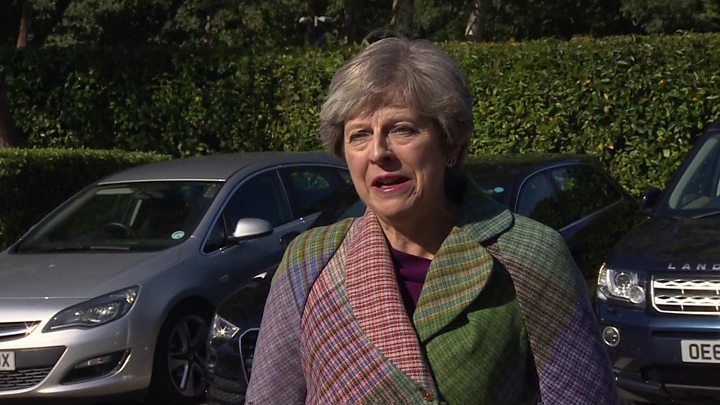 Pressure on the prime minister has grown since her party conference speech was plagued by a series of mishaps, as she struggled with a persistent cough and was interrupted by a prankster.
Mr Shapps, who was co-chair of the party between 2012 and 2015, said he believed it was "time we actually tackle this issue of leadership" adding that "so do many colleagues".
However, cabinet ministers including Environment Secretary Michael Gove and Home Secretary Amber Rudd were among those who backed the PM on Friday.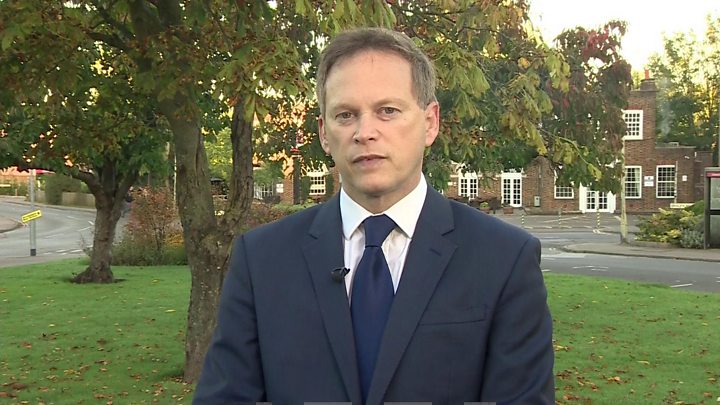 Speaking on Radio 4's Political Thinking podcast, Ms Davidson, leader of the Scottish Conservatives, suggested the prime minister's critics should "put up, shut up and get off the stage", adding there were "an awful lot of people in our party who need to settle down".
"I think if the plotters were serious, they would be led by someone a bit more serious," she said.
"One of the irritants over the last couple of days, for me, particularly as a woman, is this idea that all of these men are supposed to be making decisions on Theresa May's behalf," she added.
"Well, have they actually met Theresa May? This is a woman with agency, with grit, with determination.
"I backed her in the leadership, I back her now and I will back her in the future."
'The country needs leadership'
To trigger a vote of confidence in the party leader, 48 of the 316 Conservative MPs would need to write to the chairman of the backbench 1922 committee.
A leadership contest would only be triggered if Mrs May lost that vote, or chose to quit.
Mr Shapps said no letter had been sent and that his intention had been to gather signatures privately and persuade Mrs May to stand down.
But he claimed party whips had taken the "extraordinary" step of making it public by naming him as the ringleader of a plot to oust the PM in a story in the Times.
He said: "The country needs leadership. It needs leadership at this time in particular."
Former minister Ed Vaizey was the first MP to publicly suggest Mrs May should quit on Thursday, telling the BBC: "I think there will be quite a few people who will now be pretty firmly of the view that she should resign."