David Guetta, Theresa May and the politics of the conference playlist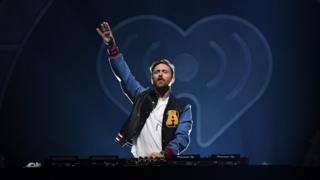 There's not much to do while you're waiting for political leaders to start their party conference speeches - so attention often turns to their choice of warm-up music.
But now the parties have packed up for another year, what can we glean from their choices - particularly the Tories' apparent fondness for French DJ David Guetta?
Straight after Theresa May's eventful speech, two of pop's big names, Calvin Harris and Florence Welch, followed the time-honoured tradition of complaining about their songs being used.
But it was Titanium, a 2012 chart-topper by Guetta and Australian singer Sia, that was by far the most-played track at this year's Conservative conference in Manchester.
Earlier this year, Guetta told the Financial Times he was "never into politics" - and his mother was a communist who disapproved of her son "chasing materialistic dreams".
But it's the track's lyrics, not its writer, that caught the pundits' attention.
Coverage of Mrs May's speech was dominated by her struggle to finish it (she had a cough and was interrupted by a prankster) and the PM has been dogged by questions about her leadership throughout the conference.
So when Sia sings "I'm criticised but all your bullets ricochet, you shoot me down, but I get up, I'm bulletproof, nothing to lose, fire away, fire away," it seemed pertinent to some in the auditorium.
"You can always find meaning in songs political parties decide to play but [Titanium] is particularly poignant," said New Statesman journalist Anoosh Chakelian, pointing to the chorus line: "You shoot me down but I won't fall, I am titanium."
"[That] is May's position after losing her majority but staying in her job."
A less sympathetic verdict was offered by 23-year-old party member Sophie Jarvis, who said the Guetta track was more relevant to "2012 Ibiza".
"To me it sounded like the playlist was put together by a 40-year-old thinking they're down with the kids," she says.
During her ill-fated general election campaign, Mrs May was accused of appearing "robotic" - a criticism she rejected, although she did admit the campaign - which was characterised by repetitions of its "strong and stable" slogan - was "too scripted".
"Theresa May repeatedly asserts she is not robotic," said Eliza Easton, a policy researcher who was at the conference.
"But Titanium, a song about a metallic woman unaffected by her challengers, is playing on repeat at the conference."
A party spokesman did not confirm how the playlist was selected or whether the prime minister was involved.
For the record, when Mrs May was asked in 2014 to choose her eight favourite songs on the BBC Radio 4 programme Desert Island Discs, her choices were mainly classical and did not include anything by David Guetta.
Just before the PM's big speech, Home Secretary Amber Rudd told BBC Radio 5 live the Tories had got their "mojo back" - and the playlist was certainly upbeat.
Besides Titanium, the most popular tune on the conference floor in Manchester was Journey's rousing 1981 hit Don't Stop Believing.
Titanium and Don't Stop Believing suggest a theme, according to Spectator journalist Katy Balls. "I think [the Conservatives] are trying to suggest they are resilient in times of difficulty, like now."
The Tories' conference followed Labour's version in Brighton and the Liberal Democrats' in Bournemouth.
"Endless repetition of the same song is a common feature of these conferences," says Anoosh Chakelian, adding that Killers hit All These Things That I've Done was a particular favourite with the Conservatives during the David Cameron years.
Katy Balls was also at Labour's conference in Brighton last week, and found the mood more positive. "Labour tried to suggest they were ready for power," she says. "A song I remember most is Empire of the Sun - We Are the People (Who Rule the World)."
Beatles classic Here Comes the Sun ("the smiles returning to the faces... I feel that ice is slowly melting") was played before Jeremy Corbyn took to the stage in a speech where he said his party was now united and ready for government.
Choosing the conference playlist for Brighton was a "team effort", says Mr Corbyn's spokesman, who did not confirm whether there was an intentional theme.
As it turned out it was the songs sung from the stage in Brighton - Tom Watson with Oh, Jeremy Corbyn and the leader himself with a rendition of Happy Birthday for Diane Abbott - that caught the attention.