Alan Duncan says migration 'tantrum' led to Brexit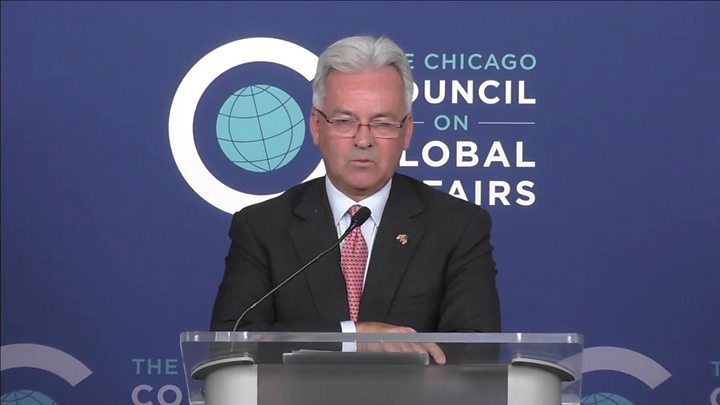 One of the reasons for the Brexit vote was working class voters throwing "a bit of a tantrum" over immigration, a government minister has claimed.
Speaking in the United States, Sir Alan Duncan said the campaign had "stirred up a lot of sentiment" about migration among people who do not usually vote.
The foreign office minister campaigned for Remain in last year's referendum.
During a Q&A at the Chicago Council on Global Affairs, he was asked if the Brexit vote had surprised him.
He said he had predicted a Remain victory, and went on: "You could feel blue-collar, urban, traditional Labour opinion going viral for Leave.
"They were stirred up by an image of immigration which made them angry and made them throw a bit of a tantrum."
Sir Alan also pointed to an "anti-establishment feeling" and a "badly conducted" campaign in which the former government of David Cameron and George Osborne "hogged" the limelight, allowing Leave to attract anti-government votes.
Labour shortages
And asked about the example of Boston in Lincolnshire - which strongly backed Leave - he said this was "one of the paradoxes" of the campaign when the local agricultural sector was dependent on migrant workers from Poland.
"Lincolnshire folk if you like said 'Oh, they are coming to pinch our jobs'.
"Well, they wouldn't do the jobs themselves anyway so it was a slightly artificial anger," he added.
Labour shortages in the NHS and the care sector as a result of Brexit could cause "quite a lot of damage," he predicted.
Sir Alan, who was appointed minister of state for Europe and the Americas by Prime Minister Theresa May after the June 2016 referendum, said the government was now trying to "make the most of what we are now required to do" by the result.
New UKIP leader Henry Bolton called for him to be sacked over his comments.
"The contempt that he shows towards the 17.4 million is a disgrace, but is symptomatic of a political elite who despise the ordinary people of our country and their hopes and aspirations," he said.