UK defence spending should increase above 2% of GDP - Michael Fallon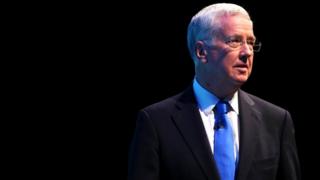 The UK should increase its defence spending, Defence Secretary Sir Michael Fallon has told Tory conference delegates.
In the face of "intensifying" threats to the UK, he said funding should rise beyond the 2% of GDP Nato target.
"We do need to be sure that we have the resources that we need and we should aim to do better," he said.
Sir Michael also announced an expansion in cadet units in state schools and £800m for the Royal Navy.
He told the Conservative Party conference in Manchester that Britain must have the means to protect itself against the increasing threats from cyber warfare and terrorist attacks.
'Do better'
In 2006, Nato members agreed to spend at least 2% of their individual gross domestic product (GDP) on defence.
"Spending 2% of GDP on defence is the minimum Nato commitment. We meet it but we should aim to do better still," Sir Michael told delegates.
He spoke of the threats of terrorism, from Russian aggression, of North Korea and cyber-attacks on the NHS and Parliament.
"And as those threats intensify we are now looking across government to make sure we are doing enough, spending enough, to properly protect our country against all of them - cyber, hybrid warfare, rogue states, terrorist attacks."
Chancellor Philip Hammond will unveil the Budget next month.
Sir Michael said the Royal Navy had started building seven new ships and submarines in the last three years, adding: "Now I want to see more of our ships out there patrolling the seven seas."
He announced £800m of support contracts for the Royal Navy, saying the money would produce "faster turnaround and improve the availability of the Royal Navy's world class warships".
He also told delegates he wanted to attract more ethnic minority and female recruits to the armed forces.
"I set a target for 10% of recruits in future to come from a black, Asian, or minority ethnic background by 2020," he said, adding that 7% do so now.
"They're joining some who have already reached the ranks of brigadier, commodore, and air commodore. We are also on track to meet our target that 15% of new recruits should be female - but I want to do even better.
"So I'm opening up every single role in our Armed Forces to women so that talent, not gender, determines how far you can go."
On cadets, he announced the creation of a further 30 new cadet units in state schools.
Sir Michael, who had earlier met cadets at Albion Academy in Salford, said many of the "outstanding people who make up our Armed Forces" started as cadets.