Stop Brexit pessimism, Liam Fox and David Davis tell Tories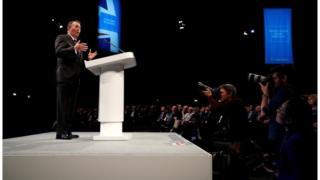 Liam Fox and David Davis have called for an end to pessimism over Brexit and for the British public to "keep their eyes on the prize" on offer.
The international trade secretary hit out at "negative" attitudes in certain quarters and urged people to be more upbeat about the UK's prospects.
"We are not passengers in our own destiny," he told the Tory conference.
In his speech, Mr Davis said the UK would still be "good Europeans" in all respects after leaving.
Mr Davis, Mr Fox and foreign secretary Boris Johnson - dubbed the three Brexiteers - all made eagerly-awaited speeches to conference on Tuesday afternoon.
Earlier on Tuesday, MEPs in the European Parliament claimed cabinet divisions were hampering the UK's approach to negotiations and urged EU leaders to postpone a decision on extending the talks to discuss trade.
While the negotiations were proving difficult and at times fractious, Mr Davis said his job was to keep calm and he urged Tory activists to "keep their eyes on the prize" on offer following the UK's exit from the EU.
Brexit, he said, was a "one-off time-limited extraordinary opportunity" to shape the country's future.
"An opportunity to make sure that all the decisions about the future of this country are taken by our parliament, our courts, our institutions," he said.
"Decisions about how to spend our taxes - made here in Britain. Decisions about who comes into the country - made here in Britain. All our laws - made here in Britain.
"We need to get Britain standing on its own two feet - facing outwards to the world."
Criticising what he said was Labour's flip-flopping on Europe, he said the Brexit talks were perhaps the most "complex" negotiations ever and that one mistake could cost the UK billions in lost business.
While he was committed to getting a deal with the EU, he said the UK was prepared for alternative scenarios and contingency planning was taking place for no agreement being reached.
While he was prepared to work with other parties to improve the government's EU Withdrawal Bill, which will convert existing EU laws into British law, he said he would not let the bill be "wrecked".
He countered claims that the UK was not a "good European", saying the UK was at the forefront of defending Europe's borders, taking the lead in tackling terrorism and a leading sponsor of humanitarian aid.
Mr Fox said all the UK's international partners wanted to do business with it but he warned advanced economies which had benefited from free markets and unrestricted trade not to "pull up the drawbridge", amid what he said was a worrying growth in protectionism.
"We need to stop the negative, undermining, self-defeating pessimism that is too prevalent in certain quarters and be bold, be brave and rise to the global challenges, together," he argued.
Labour's shadow international trade secretary, Barry Gardiner, said: "Fox has had more than a year to bring forward a trade white paper that sets out a proper road map for business export and inward investment.
"Today would have been a sensible time to introduce some of its key ideas. Instead we got meaningless bravado from the government's most policy-light minister."