Theresa May vows to act on race review findings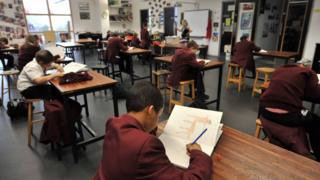 Theresa May will promise to confront "uncomfortable truths" exposed by a review into the way people from ethnic minorities are treated in Britain.
The prime minister said the audit, due to be published next week, would "hold a mirror up to society".
Its findings include that white Britons are far more likely to have a job than black and ethnic minority people.
Meanwhile, Brexit Secretary David Davis and Foreign Secretary Boris Johnson are due to speak at the Tory conference.
'Totally united'
Mr Johnson has been accused of undermining Mrs May and positioning himself for a leadership bid with his interventions on Brexit strategy.
Some Conservative MPs have called for him to be fired. Chancellor Philip Hammond said on Monday that he operates on the basis "everyone is sackable".
But asked whether he would be "loyal" in his speech on Tuesday, the foreign secretary told Newsnight: "Contrary to some of the stuff that I notice has been knocking around in the media, you have a cabinet that is totally united behind every comma, every full stop, every syllable of the prime minister's excellent Florence speech.
"That's the agenda that we're going to deliver and we're going to deliver a great Brexit for this country."
BBC political correspondent Ben Wright said Mrs May was keen to demonstrate priorities beyond leaving the EU and was returning to a theme she had first highlighted on taking office last year.
She ordered the audit, which the government said was "the most extensive review of its kind ever undertaken", when she became prime minister.
Government departments were told to identify and publish details of the varying experiences and outcomes of different groups when using public services.
The audit is aimed at highlighting racial and socio-economic disparities and showing how outcomes differ due to background, class, gender and income.
Schools, hospitals, employers and courts are all covered.
"Britain has come a long way in my lifetime in spreading equality and opportunity, but this audit will be definitive evidence of how far we must still go in order to truly build a country that works for everyone," Mrs May said.
According to a selection of the findings released by the government ahead of the 10 October publication, two in three white adults own their home, compared with only two in five householders from any other ethnic group.
It has also found that white pupils from state schools had the lowest university entry rate in 2016.