Ashcroft: Boris Johnson comments could help PM in Brexit talks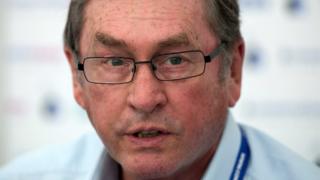 Conservative donor Lord Ashcroft says he believes Boris Johnson's Brexit interventions might help Theresa May in her negotiations with the EU.
The former deputy chairman said the PM could tell Brussels: "This is the type of difficulty I have in bringing people into line."
Mr Johnson, the foreign secretary, has been accused of undermining Mrs May by setting out his own vision of Brexit.
But Lord Ashcroft said he could not "see much harm" in his recent comments.
Speaking to BBC political editor Laura Kuenssberg at the Conservative Party conference in Manchester, the tycoon said: "Everyone wants the best deal for Britain in EU negotiations - the issue is that everyone has a different view on how they should proceed.
"But it is a complex set of negotiations and I don't believe that a deal will be struck until much nearer the time and there's a lot of play acting going on and positioning.
"I don't see much harm in what Boris has put forward, I don't see it's highly inconsistent. At the same time Theresa can use that as a strength in the EU negotiations by saying 'this is the type of difference I have in bringing people into line'."
After the Conservatives lost their Commons majority in June's general election, much of the talk at conference is about how to address the challenge posed by Jeremy Corbyn and Labour.
Lord Ashcroft said the party needed to "reassemble" and "get its act together", adding that there would be different "nuances" from ministers throughout the Brexit process.
In his latest comments on Brexit, Mr Johnson wrote in The Sun that Mrs May's planned transition phase must not last "a second more" than two years.
The foreign secretary also set out his plan for Brexit in a Daily Telegraph article last month.
This sparked accusations of "backseat driving" and prompted Mrs May to say the government was "driven from the front".