Paperless rail tickets across UK by 2019 - Chris Grayling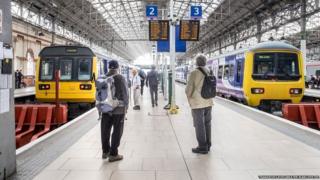 Plans to replace paper tickets on UK trains are to be accelerated, Transport Secretary Chris Grayling has said.
Passengers will be able to use mobile phones and smartcards to travel across most of the network by the end of 2018, he told the Conservative conference.
People "want smart ticketing and we will deliver it," he said.
Defending the government's rail investment plans, he said all trains in the north of England would either be revamped or replaced by 2020.
And he said the Conservatives - who have been accused of short-changing the north - had electrified four times more of the rail network in the north-west in seven years in power than Labour had done in 13 years.
Speaking in Manchester, Mr Grayling said he wanted smart ticketing to become the norm, with new technology to be trialled by the end of this year to allow season ticket holders to travel without paper tickets.
"Our railways haven't made nearly enough progress in using new technology for rail tickets. Last year I said to you that we needed to get rid of the paper ticket on our trains.
"Since then we've been working on plans to achieve that," he said.
"So today I am setting out details of our £80m programme to bring smart ticketing… using mobile phones, barcodes and smartcards across almost all of the rail network by the end of next year."
He also said he wanted to see more commuter franchises outside London using pay-as-you-go ticketing systems by next year.
'Days of British Rail'
He contrasted what he said was the biggest investment in the railways in the north "since the steam age" with Labour's plans to nationalise the train operating companies by "confiscating assets from the private sector".
Defending the record of the railways since privatisation in the 1990s, he said the number of people using the network had doubled, new routes had been opened and new fleets of trains were in use across the country.
"In Jeremy Corbyn's world we would be so much better going back to the days of British Rail," he said.
"Those 'glory days' when lines were closed and services axed. When passenger numbers slumped and investment in our railways equated to bolting parts on to railway wheels."
He added: "If you treat business as the enemy and tax it until the pips squeak, it will simply go elsewhere. And so will the jobs and so will the investment. And the opportunities for the next generation."
Mr Grayling also announced £100m for local road improvements across the UK and said he hoped the government would be able to give the formal go-ahead to a new runway at Heathrow in the first half of 2018 subject to necessary public consultation and the backing of Parliament.