Michael Gove suggests plastic bottle deposit scheme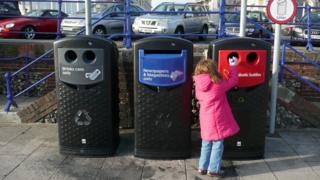 The government is to consider whether to introduce a "reward and return" scheme for plastic bottles to try to improve recycling rates.
Environment Secretary Michael Gove appealed for views on how such a system might work in England.
The Scottish and Welsh governments have recently said they are also considering introducing a deposit scheme, an idea backed by drinks giant Coca-Cola.
Greenpeace backed the move, but retailers said it would hit customers.
Speaking to the Conservative Party conference in Manchester, Mr Gove said action was needed to protect marine life from plastic waste.
"That means tackling the rise in plastic bottles entering our waters by making it simpler and easier to recycle and dispose of them appropriately," he said.
The government said deposit schemes - which involve a small surcharge paid by consumers being refunded when bottles are returned - had been successful in other countries.
Only 57% of plastic bottles sold in the UK in 2016 were collected for recycling, it said.
---
Analysis by the BBC's Roger Harrabin
Mr Gove tells me he favours some sort of deposit scheme - but wants the information to choose the best one available.
His statement of intent has been cautiously greeted by environmentalists, who have been calling for a deposit scheme for decades.
Now they're urging him to implement a scheme swiftly - without the delay that accompanied the 5p plastic bag charge, which was fiercely resisted by the industry.
They say reverse vending machines have made it much easier to recycle now than in previous times when the hard work fell on the shopkeeper.
---
Glass bottle deposit return systems used to be common in the UK until the 1980s.
The government has not yet given details on how a "reward and return" scheme might work in practice in England - its working group on recycling will consider the views submitted and report back in December.
Announcing its own detailed study earlier this year, the Scottish government said it would consider the benefits for recycling rates as well as the impact on retailers and local authorities.
Greenpeace Oceans campaigner Elena Polisano said the "continuous stream" of disposable plastic bottles into the ocean "has been growing alarmingly".
She added: "We urgently need solutions, and we think a bottle return scheme like those being looked at by Michael Gove, and by the Scottish and Welsh devolved governments, is probably the best way to raise collection rates and turn that stream into a loop."
Recycling charity WRAP welcomed the new study, adding: "If there are fresh ways to increase plastics recycling and reduce litter, then these should be explored."
But Andrew Opie, of the British Retail Consortium, said the announcement was "disappointing", calling for a "more progressive and comprehensive approach to waste".
"Whilst superficially appealing, the reality is deposit return vending will hit customers with an upfront charge, pushing up the cost of living to the tune of tens of millions of pounds at a time when household finances are under strain," he said.