Amber Rudd accuses tech giants of 'sneering' at politicians
By Brian Wheeler
Political reporter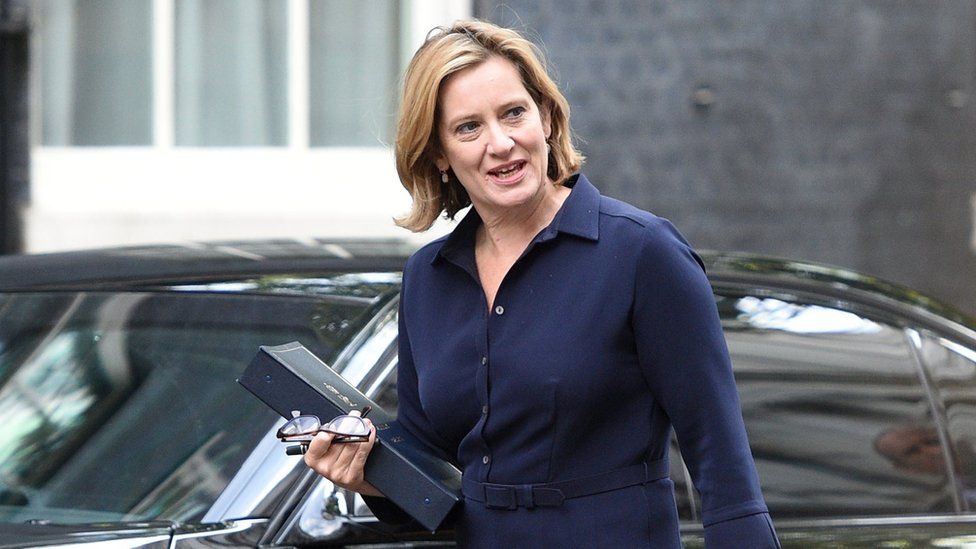 Home Secretary Amber Rudd has accused technology experts of "patronising" and "sneering" at politicians who try to regulate their industry.
She said Silicon Valley had to do more to help the authorities access messages on end-to-end encrypted services like WhatsApp.
And she said she did not need to understand how they worked to know they were "helping criminals".
She was speaking at a Spectator fringe meeting at the Conservative conference.
WhatsApp says all messages sent on WhatsApp have end-to-end encryption, meaning they are designed to be unreadable if intercepted by anyone, including law enforcement and WhatsApp itself.
The service is used by MPs, including Tory backbenchers, to swap confidential gossip, the meeting was told.
Ms Rudd is concerned it and other encrypted services, provided by Facebook and Google among others, are being used by terrorists to plot attacks.
She insisted she does not want "back doors" installed in encryption codes, something the industry has warned will weaken security for all users, nor did she want to ban encryption, just to allow easier access by police and the security services.
Asked by an audience member if she understood how end-to-end encryption actually worked, she said: "It's so easy to be patronised in this business. We will do our best to understand it.
"We will take advice from other people but I do feel that there is a sea of criticism for any of us who try and legislate in new areas, who will automatically be sneered at and laughed at for not getting it right."
She added: "I don't need to understand how encryption works to understand how it's helping - end-to-end encryption - the criminals.
"I will engage with the security services to find the best way to combat that."
Michael Beckerman, chief executive of the Internet Association, which represents Google, Microsoft, Amazon and other US tech giants, said it was an "understandable goal" for the home secretary to "want to remove it from end-to-end".
But, he went on, "since it is just math and it has been invented it can't uninvented".
"So even if every internet company that we represent said 'ok we are turning off encryption' you are just weakening the security for everybody in this room but that math, that technology still exists for others to use on other platforms."
"I am not suggesting you give us the code," the home secretary shot back, telling him: " I understand the principle of end-to-end encryption - it can't be unwrapped. That's what has been developed.
"What I am saying is the companies who are developing that should work with us."
She added that "we don't get that help - although we sometimes get it in a fulsome way after an event has taken place".
She told the meeting Silicon Valley had a "moral" obligation to do more to help the fight against crime and terrorism.