Tory members vent about the mismanaged election campaign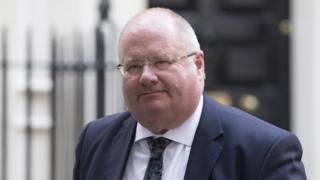 "Why would anybody, let alone a normal person, want to become a member of the Conservative Party?"
"I'm beginning to lose the will to live."
"An utter, total disgrace."
This was some distance from the slick choreography you can become inured to at party conferences.
This was a public post-mortem in a marquee.
A brutally honest dissection of humiliating failure at the general election.
The Conservative Home website hosted a discussion for party members to say it as they saw it - and the room festered with irritation, anger and a forest of raised hands.
For more than an hour, the criticisms came.
The outspoken John Strafford, from the Campaign for Conservative Democracy, predicted Armageddon for the Tories.
Party membership, he said, had been allowed to decline below 100,000 nationally and 300 constituency associations had no more than 100 members - and no more than 10 of them were up for doing stuff or were activists.
It was Mr Strafford who said this was "an utter, total disgrace".
"Eventually there will be no members left, and that will be the end, goodbye," he claimed.
A visibly angry Sir Eric Pickles, who has written a report on the party's failure at the election, sarcastically congratulated him on "getting tomorrow's headlines".
'Predominantly London'
The room by now crackled with irritation - as members set out what they saw as a range of structural, organisational and practical reasons that contributed to the party's failure to win an overall majority.
The party's losing candidate in Halifax in West Yorkshire, the marginal seat where the party published its now widely derided manifesto, was highly critical of the national party.
Chris Pearson said his team had been threatened with disciplinary action if they didn't follow central dictat about the areas of the constituency they targeted, despite what he saw as their superior local knowledge.
"Everything does seem to be quite predominantly London," he added, about the party's organisation and staffing.
It was a party member from Cambridge who questioned why anyone would want to sign up to join the party right now.
Sir Eric Pickles said: "We can't have the manifesto being written quietly in a corner," and insisted "someone should be unambiguously in charge of the election".
His report, complete with 126 recommendations, suggested there was "a clear campaigning deficiency" and a need for more young people and members of ethnic minorities to join and support the Conservatives.
'Blithering idiots'
Paul Goodman, the editor of Conservative Home, fretted that unless someone was charged with ensuring Sir Eric's ideas were implemented over the next 10 years, many could fall by the wayside.
"We will be in such a mess if we don't push this through," Sir Eric said.
Two contributors from the floor said the Tories could learn from Momentum, the grassroots movement inspired by the Labour leader Jeremy Corbyn.
The Tory MP Nusrat Ghani agreed: "One of the ways it recruits is pinpointing local campaigns. A local school, a local hospital, to nudge people along to get involved. A bottom-up approach is absolutely key."
The former minister Edwina Currie, reflecting on everything she had heard, said the meeting left her "losing the will to live".
But she was furious that "blithering idiots" from party headquarters had sent her and fellow canvassers to addresses in Derbyshire which had been picked out to target because the occupiers earned relatively high salaries.
What Central Office hadn't realised, she said, was that in her patch many of the best paid were public sector workers with Labour posters in the windows.
Graham Brady, the chairman of the 1922 Committee of Conservative MPs, said it was time the party "tried to convince primary school teachers of the benefit of the free market" and work harder to ensure more public sector workers would consider voting Tory.
But when Mrs Currie complained about the number of white men in senior roles within the party, Mr Brady joked: "There is nothing I can do about being white or being a man. Nothing I'd wish to do anyway!"
As this public inquest rolled into its second hour, hands were still popping up: passionate activists with questions, observations and irritations about an election that went badly wrong.