Theresa May urged to sack Johnson over Brexit articles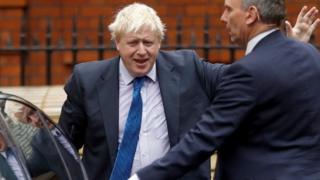 Veteran Europhile Lord Heseltine has launched a scathing attack on Boris Johnson, saying "in any normal situation he would be sacked".
Mr Johnson sparked fresh speculation about Theresa May's leadership as the Tories gathered in Manchester for their conference, following a second article setting out his own approach to Brexit.
Lord Heseltine said the PM was too "weak" to sack the foreign secretary.
Mrs May has insisted the cabinet was united behind her Brexit vision.
"What I have is a cabinet that are united in the mission of this government, and that is what you will see this week," she told the BBC's Andrew Marr show.
She sidestepped a question about whether Mr Johnson was "unsackable" as Lord Heseltine and others have claimed.
She also declined to answer whether she would resign as prime minister if she fails to secure a Brexit deal and the UK leaves the EU without agreement on a future relationship in March 2019.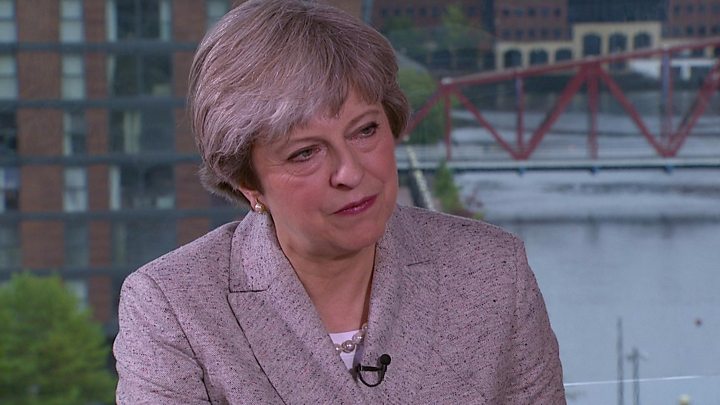 Mr Johnson's article for The Sun - in which he says Mrs May's planned transition phase must not last "a second more" than two years - is the second time in a fortnight he set out his own vision for Brexit.
The foreign secretary also did this in a Daily Telegraph article last month.
This sparked accusations of "backseat driving" and prompted Mrs May to say the government was "driven from the front".
Lord Heseltine, who was on the opposite side of the EU referendum to Mr Johnson and has criticised him strongly in the past, said Mrs May was in an impossible position.
"If she keeps him inside, he will continue to disrupt, if she puts him outside, he will disrupt," he told the BBC's Sunday Politics.
His view was echoed by former Conservative Party Chairman Grant Shapps, who told ITV's Robert Peston Mrs May cannot sack Mr Johnson "for the simple reason that her majority is so small that her position is not strong enough".
"She should, of course, but she can't," he added.
"Putting him on the outside would put her entire premiership in instant peril."
He also echoed Lord Heseltine's belief that Mrs May can't lead the Conservatives into the next general election.
'Classic conference frenzy'
First Secretary of State Damian Green, who is effectively Mrs May's second-in-command, rejected calls for her to sack Mr Johnson.
"Boris clearly has huge talents and having him in the cabinet gives us those strengths," he told Robert Peston.
"Inevitably on big issues people will express views. Boris has a good record as Mayor of London, so it's a good thing to have him in the cabinet."
Asked whether he expected to be sure by the end of the week that Mr Johnson was not trying to destabilise the prime minister, Mr Green said: "I hope so and I think so, yes."
He told BBC Radio 5's Live's Pienaar's Politics the speculation about Mrs May's leadership was "classic conference frenzy" and the government's Brexit policy was "agreed by the whole cabinet".