Brexit: Miracle needed to advance talks, says Juncker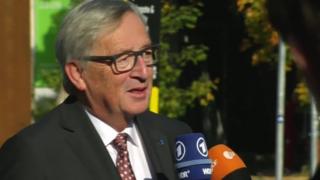 It would take a "miracle" for Brexit talks to progress quickly enough to persuade the EU to start discussing trade soon, a top official has said.
EU Commission President Jean-Claude Juncker agreed progress had been made between the two sides this week.
But asked if it was enough to persuade the EU to agree to open trade talks, as the UK wants, at a summit next month, he replied only if "miracles happen".
But British PM Theresa May said she was "pleased" with recent developments.
Speaking in Estonia, where she is attending an EU security summit, Mrs May said there had been movement on issues such as citizens' rights during the fourth round of Brexit talks which concluded on Thursday.
British negotiators, led by Brexit Secretary David Davis, suggested there had been "decisive" steps forward although his EU counterparts have been more cautious, suggesting there was a lot more work to be done.
At a meeting next month, the other 27 EU leaders could decide whether "sufficient progress" has been made in the talks to date, which have focused on separation issues such as the Irish border and money, to move on to to consider the UK's future relationship with the EU after it leaves in March 2019.
Asked for his view as he arrived at the summit in Tallinn, Mr Juncker replied: "By the end of October we will not have sufficient progress."
While he acknowledged "we are making progress", he said "at the end of this week I am saying there will be no sufficient progress from now until October, unless miracles would happen".
European Council President Donald Tusk - who represents the EU 27 - has already suggested meeting the deadline is unlikely, while the EU's chief negotiator Michel Barnier has said a decision on opening the second phase of talks could be "weeks or months" away, amid speculation it could slip to December.
'Special partnership'
Mrs May was more bullish as she arrived, suggesting that there had been progress in the seven days since she gave a number of guarantees - including on honouring contributions to the EU budget - in a speech in Italy.
"In Florence, I set out the progress that has been made in the negotiations and my vision for a deep and special partnership with the EU," she said.
"I am pleased with the progress in the negotiations, and look forward to developing that special partnership as it's in the interests of EU as well."
Meanwhile, Irish Prime Minister Leo Varadkar has suggested this week's Boeing-Bombardier trade dispute illustrated the difficulties the UK could face in doing trade deals with other countries after leaving the EU.
"I think it could well turn out to be a lesson for the UK," he said in Tallinn. "I think it should that we are stronger together as a trading bloc, and that is something for people to consider."
At Friday's summit, Mrs May will make it clear to EU leaders that the UK is ready to continue contributing troops, equipment and money to EU operations and align foreign policy with Brussels where appropriate.
Addressing British troops stationed in the the country earlier, Mrs May said the UK was not leaving Europe and was "unconditionally committed to maintaining Europe's security".
Some 800 troops have been in Tapa since April, alongside Estonian and French forces, as part of a Nato effort to reassure eastern European nations fearful of Russia's increasing assertiveness.