Tough call: report blasts Brexit bill powers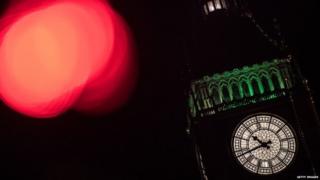 It almost deserves Batman-style sound effects.
Kerpow! "excessively wide law-making powers".
Thwack! "unacceptably wide 'Henry VIII' powers".
Zap! "insufficient parliamentary scrutiny".
Crunch! "This goes much wider than the government's White Paper commitment..."
Holy Brexit!
The House of Lords Delegated Powers Committee is, to put it gently, normally a rather staid body, which performs an important but mostly unnoticed legislative chore; making sure that when legislation gives ministers direct powers to vary the detail of the law, so-called "Henry VIII powers", those powers are justified.
And today, in a very tough new report, they have called for substantial extra safeguards to be built into the EU (Withdrawal) Bill, the centrepiece of the government's Brexit legislation.
Detailed changes
The bill is intended to take 40 years of accumulated EU law, and reprocess it into workable British law, ready for the UK's exit from the EU.
But this could involve thousands of detailed changes to the law - for example, saying that a decision on some regulatory issue should be made by a UK minister or agency rather than by the EU.
There are far too many changes to be put through Parliament in full-scale bills, so the government wants the power to make the changes through what are called statutory instruments (SIs), which may be simply be enacted by the government, or may face a one-off vote.
Giving ministers an unfettered right to choose the procedure for SIs would be "wholly unacceptable" the committee says.
They go on to complain that the bill currently provides little opportunity for parliamentary scrutiny of the sweeping powers it would give to ministers - as they say: "wider Henry VIII powers than we have ever seen".
Their new report calls for a sifting mechanism to make sure important changes are not waved through without proper parliamentary debate.
This means that so called Negative SIs, which simply come into force by ministerial order and can only be annulled if Parliament later votes to strike them down, should be examined in advance by a high-powered parliamentary committee, which would be able to insist that they should be debated.
The committee has also picked up on a subtle point in the language - ministers have powers to alter EU law when they consider it appropriate to deal with deficiencies arising from the UK's withdrawal from the EU.
But this goes much wider than the government's White Paper commitment not to make major changes to policy beyond those that are necessary to ensure UK law continues to function properly from day one of Brexit.
This switch in terminology may well be a way of avoiding judicial review of the way those powers are used - "necessary" is a hard word, and the level of necessity could be challenged in court; "appropriate" is a matter of ministerial judgement, and that would make a legal challenge more difficult.
The objection here is that the difference between necessary, as opposed to appropriate corrections to EU law could potentially be vast - and hand ministers enormous power.
This section of the bill - Clause 7 - is "notable for its width, novelty and uncertainty", the committee remarks.
As an example, they point to current EU data protection regulations, which give individuals rights of access to personal data, subject to exceptions like national security. Ministers, they suggest, might take the view that, once we have left the EU, "the exceptions to data access rights do not operate effectively as regards EU citizens resident in this country and should be widened under Clause 7 to prevent them, say, from having a right of access to immigration information held about them by the Home Office.
Using a test of necessity, it would not be necessary for the law to be changed to give the government the benefit of a wider derogation than they currently possess under the regulation. But it is arguably something that ministers could decide was 'appropriate' to do."
Examining clauses
Another sore point is Clause 8, which contains a Henry VIII power allowing the regulations to do anything that an Act of Parliament can do, including amending or repealing any Act of Parliament ever passed.
The committee says this would allow ministers "to impose or increase taxation, thus allowing the supremacy of the House of Commons in financial matters to give way to taxation by statutory instrument."
They are also wary of so-called "tertiary legislation," which is law made by public bodies under powers conferred on them by ministers. They fear that quangos could make law on their own, without reference to ministers, let alone Parliament, and even impose taxes, or tax-like charges - and they call for a clampdown on that area as well.
This is strong stuff from, as I say, a normally careful and cautious committee - and it is worth noting the timing as well.
The DL committee normally weighs in when a bill reaches the House of Lords, but this time, quite consciously, they have decided to publish in time to feed their conclusions into the Commons committee stage debates on the EU (Withdrawal) Bill, which are expected to start in mid-October.
Already there are a number of amendments down challenging the powers ministers propose to take, and this report is bound to strengthen the bill's critics.
And if the bill is not changed in the Commons, in order to meet the committee's concerns, the chances of the Lords passing a few amendments have just increased dramatically.
Responding to the report, a government spokesperson said: "The powers in the Withdrawal Bill are not unusual or extraordinary - hundreds of changes are made in this way each Parliamentary session.
"Converting EU law into UK law ready for exit day is a huge task and it is not appropriate or feasible to do all of this via primary legislation.
"We will consider the Committee's report carefully, however we are clear that using Statutory Instruments is the right way to provide certainty for people and businesses on the day we leave the EU."