'No point trying to be cool' - the Tories seeking young voters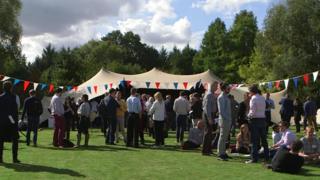 The Conservatives have a problem. More young people are voting than at any time in the last quarter of a century, but largely not for them - so what can the party do to change that?
It's been labelled - perhaps unfairly - the "Tory Glastonbury". Around 200 activists, MPs, sympathetic thinkers and business people meet in the low September sunshine to discuss how the party can attract young voters.
Just two years ago, the split in support between Labour and the Conservatives among 18 to 29-year-olds was fairly even, 36% to 32%.
Fast forward to this June's general election and that small gap had become a chasm - according to pollsters YouGov - with Labour now on 64% to the Tories' 21%.
In fact, unless you were touching 50, you were in a minority if you voted Conservative.
'Panic mode'
Addressing worried-looking party figures at the Big Tent Ideas festival in Berkshire, Lord Cooper - one-time director of strategy for ex-Prime Minister David Cameron - puts it starkly.
Older Conservative voters, he says, are dying. And younger, more "open" voters are not going to decide when they hit 50 that "feminism and the internet and the green movement are a bad thing after all".
Unless the party responds, he adds, "it is going to die".
So what should they do?
"Somebody famous and clever said the Conservative Party only knows two modes - complacency or panic," says one of the Tories' youngest MPs. "And we're definitely in panic mode."
Bim Afolami, an old Etonian and former banker, is 31 and has only been an MP for a few months, but his thoughts have already turned to this question.
"The party generally, collectively, realises that this is a problem," he says.
With the Budget less than two months away, he says Chancellor Philip Hammond recently told a meeting of Conservative backbenchers that the party must address two of the key issues for younger voters - housing and student debt.
Victoria Borwick - who represented the safe seat of Kensington until she became one of the 33 Conservative MPs swept away by Labour's better-than-expected showing in June - echoes the message.
"Every single MP should go back to their own area and see how they can build more housing for the next generation."
'Not Glastonbury'
It might be only 100 miles away, but the Big Tent Ideas Festival couldn't be further from Glastonbury.
The music is Bach - perfectly rendered by a violinist. The buffet is delicate and refined. And there are more MPs in attendance than the young voters whom the ideas are intended to reach.
"This is not Glastonbury," Mr Afolami points out. "It's more akin to (literature festival) Hay-on-Wye."
The comparison is clearly unfair, but does it matter?
The story goes that the brains behind the event, Conservative MP George Freeman, saw Labour leader Jeremy Corbyn cheered by thousands at Glastonbury over the summer and asked, "Why is it just the left who have all the fun in politics?"
Conservative MP James Cleverly is unimpressed.
"Wow, a left-wing leader getting a good reception at a rock festival," he says, ironically.
"What kind of crazy world is it we live in that that kind of thing happens?
"It's a bunch of young people who've just been given a massive electoral bribe."
Mr Corbyn - who said before the election he would "deal" with student debt - will be punished for taking "younger voters for fools", Cleverly says.
"Being hip, being popular, being cool, that's really easy," says Cleverly.
"Until you have to make tough decisions. And when you have to make tough decisions, that veneer of coolness comes off real quick.
"So the better thing to do is to be right and be doing the right things for the right reasons rather than trying to be cool and popular and saying whatever thing is going to get good headlines or a big cheer at Glastonbury."
Diversity
What, then, can the party learn?
Labour's general election campaign was praised for its use of social media and for reaching young people previously unmoved by party politics.
Tobi Alabi - a south Londoner who was invited to attend the ideas festival, and was courted by Conservatives there, but isn't a supporter - says the party was an irrelevance for most of his friends.
Labour, he says, related and appealed to young people.
"That's something the Conservative Party didn't do. They didn't display diversity. They didn't display an appeal to young people. You have to tap into young people's interests."
So - if they do that - could those young people won over by Jeremy Corbyn's Labour one day support the Tories?
"Those people can be won back," says a hopeful Bim Afolami.
"Those are not people who have decided forever to vote for one person or one party.
"I think if we show them that we've got the right policies - but, more importantly, the right values - those are people that we can at least compete for in the future."
Watch the Victoria Derbyshire programme on weekdays between 09:00 and 11:00 on BBC Two and the BBC News channel.