Labour's Jon Ashworth calls for £500m NHS winter bailout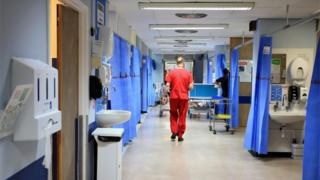 Labour is calling on the government to spend an extra £500m on a winter bailout fund for the NHS in England.
Shadow health secretary Jonathan Ashworth said the cash was needed to increase capacity in struggling hospitals and pay for extra staff.
He also said it was Labour's "ambition" to return NHS funding increases to the same level as during the 1997-2010 Labour governments.
The Department for Health says it has "robust" plans in place for the winter.
And it will pump "an extra £100m for [accident and emergency] departments and £2bn funding for the social care system" to get it through the cold season.
But Mr Ashworth said: "We've had no clear explanation from [Health Secretary] Jeremy Hunt and [Prime Minister] Theresa May about how the NHS will be prepared this winter.
"We are hearing that we could have a serious flu outbreak this winter.
"So if the government have robust plans, we need them to come forward."
Extra money is needed to boost the capacity of hospitals, allow the NHS to hire extra non-agency staff and improve the transfer of patients to social care, Mr Ashworth said in a speech to the party's conference in Brighton later.
He told delegates the prime minister must not stick her "head in the sand" because a "collapse" on the same scale as last year's winter crisis would lead to thousands of people waiting longer for A&E treatment.
Labour has pledged to boost spending on the NHS through a 5% hike in income tax for the highest earners and changes to corporation tax.
Mr Ashworth told BBC Radio 4's Today programme the £7bn extra promised for the NHS in Labour's general election manifesto was a "substantial investment".
But he said it fell short of what was needed in the long-term, which was a return to the increases seen during the last Labour governments.
"We should be giving the NHS 4% a year, and I want us to work towards getting back to that 4% increase," he told Today.
"But what I cannot do is say on day one of a Labour government it will definitely be 4% because we have to manage the public finances prudently."
Asked about shadow chancellor John McDonnell's announcement that Private Finance Initiative (PFI) contracts would be brought "in-house" if Labour won power, he said it would "take time" and not happen "overnight".
"NHS experts generally accept that it is only a handful which are causing hospital trusts across the country a significant problem, but let's look at every single one in detail," Mr Ashworth said.
"I am not going to make a sort of hypothetical guess of how many contracts will be [brought back in-house].
"There are a handful of hospital trusts who have got a problem with their deficits and their financing which is because of the PFI contract they are in."