Brexit: 'May speech not changed by Boris Johnson article'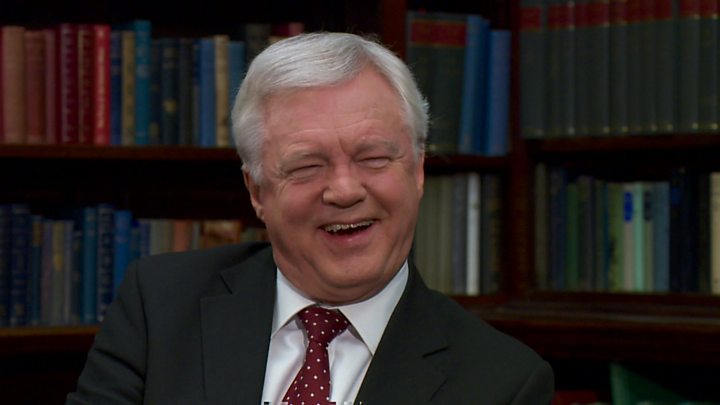 Theresa May's key EU speech was not influenced by Boris Johnson's article on the UK's future, the Brexit secretary has said.
The foreign secretary has been accused of undermining the PM with a 4,000-word piece setting out his own vision.
Some reports have claimed Mr Johnson threatened to resign if his blueprint for Brexit was not followed.
But David Davis said the policy in Mrs May's Florence speech "had been coming for a long time".
Theresa May declared on Friday she would seek a transitional period after Brexit in 2019, suggesting it could last for about two years.
The Sunday Express is reporting the period would have been longer had it not been for Mr Johnson's intervention six days ahead of her speech.
The Observer, meanwhile, claims he forced her to take the so-called "Norway model" off the table - a model which could have seen the UK pay for continued access to the single market.
But Mr Davis told the BBC's Andrew Marr Show: "I don't think there's been any change of policy in the last few weeks."
He said the government had begun designing some aspects of Mrs May's speech on transition "right back at the beginning of the year".
Several Sunday newspapers contain fresh allegations of splits in the cabinet.
The Sunday Telegraph reports that Mr Johnson is now demanding that EU rules are not applied to the UK during the transitional period, while the Sunday Times has published claims of a leadership plot involving Mr Davis, Mr Johnson, Chancellor Philip Hammond and Home Secretary Amber Rudd following June's general election.
Last week, Ms Rudd accused Mr Johnson of "back-seat driving" over Brexit with his article.
Asked about those remarks, Mr Davis would not be drawn, but joked: "My car's only got two seats."
Speaking on Marr, Mr Davis went on to say the government would not "under any circumstances" accept the "overarching supremacy" of the European Court of Justice after the UK leaves the EU, but judges would be allowed to interpret the European treaty and look at European decisions.
"The aim with the withdrawal treaty would be to have British citizens in Europe and European citizens in Britain treated broadly similar," he said.
"They won't be exactly the same because they're in different countries under different legal systems but as similarly as we can."
Registering citizens
Mr Davis denied reports that the UK faced a £40bn "divorce bill" for leaving the EU.
He said it would be "roughly" £10bn a year over two years, and claims in Brussels that the final settlement once pensions and other liabilities were taken into account could be double that amount were "made up".
"Things like pensions and other things, these are debatable to say the least," he said.
"The last time we went through line by line and challenged quite a lot of the legal basis of these things and we'll continue to do that."
In her speech in Florence on Friday, the prime minister sought to reassure member states that they would not lose out financially during the current EU budget period - which runs to 2020 - as a result of the UK's departure.
Mrs May also confirmed there would be no restrictions on EU citizens coming to the UK during the transition period, but that after Brexit they would be registered as they arrive.
But the European Parliament's Brexit negotiator, Guy Verhofstadt, accused the UK of "cherry-picking", saying that a "new registration mechanism for EU citizens going to live and/or work in the UK is out of the question".
Mr Davis disputed that, arguing Britain would be "outside of European law by then" so the matter would be up for negotiation, and registration would be the UK's "intention".