Setting the scene for Labour's 2017 party conference
By Kristiina Cooper
Political reporter, BBC News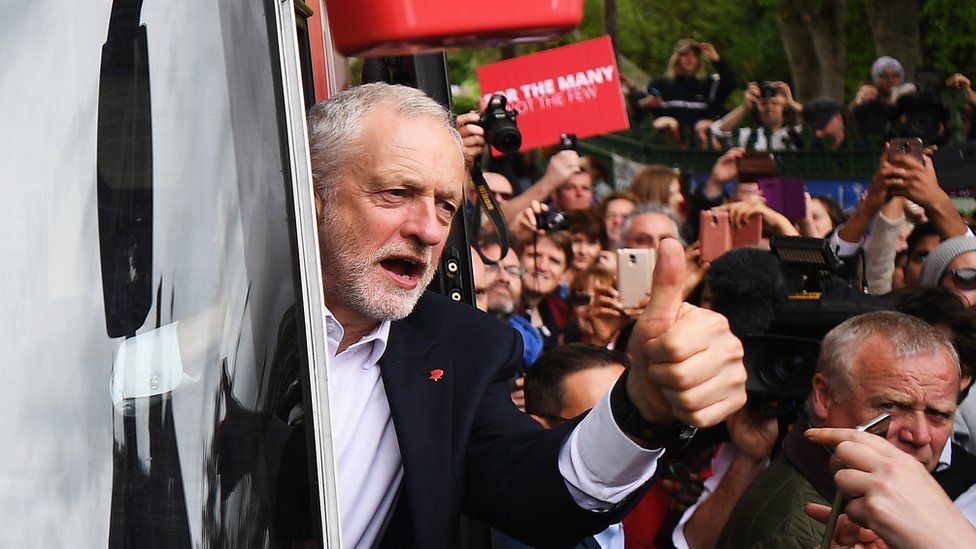 Labour's annual conference gets under way in Brighton on Sunday - what could the week hold for the expected thousands of delegates?
It's going to be noisy, colourful and big - Jeremy Corbyn did better than anyone expected at the general election, gaining an extra 30 MPs, and Brighton is the first chance his followers have had to celebrate that achievement en masse.
Party membership has increased to nearly 600,000, making Labour the biggest political party in Europe. Mr Corbyn has said he is looking forward to "a brilliant conference, the biggest we've ever held".
But there are still tensions behind the scenes between the newly-dominant Corbynite wing of the party and the "moderates", some of whom will, no doubt, insist on ruining the party mood by pointing out that Labour did not actually win the election.
Preparing for an election
Making political predictions is unfashionable so it's anyone's guess whether there'll be another general election sooner rather than later. With Theresa May trying to manage a minority government, Mr Corbyn is betting on the "sooner" option. While most MPs headed for the beach, he spent the summer touring marginal constituencies ensuring his troops were on full election footing.
At conference, there'll be a big drive to train new members in Labour's latest campaign technology and techniques. Instead of sipping warm wine (or Prosecco) at fringe meetings, many delegates will be drilled in "Promote", Labour's new digital marketing tool that spreads tailored messages via Facebook.
All sounding rather earnest so far? Take heart from Billy Hayes, former leader of the Communication Workers Union, who told Progress magazine recently that older activists were marvelling at "the invention and humour of newer 21st Century socialists".
Only a year ago, Labour MPs tried to oust Mr Corbyn as party leader. Thanks to the support of members, he held on. Since Mr Corbyn's surprise general election success, some MPs seem to have softened their stance, in public at least. But those recent divisions, coupled with Labour's history of strife, do not simply vanish. And there are several dimensions. Grassroots members versus the Parliamentary Labour Party.... Blairites versus the Left... Momentum versus "moderate" MPs.
But how vitriolic will any disagreements be? In a pre-conference message Mr Corbyn felt moved to ask delegates to debate in a "comradely, respectful and honest way". The conference will be a test of his skills in keeping divisions in check.
All the recent headlines have been about Conservative splits, but the EU is a divisive issue for Labour too. In fact, Brexit could cause one of the biggest arguments of all at conference. Labour is getting the Brexit debate out of the way on Monday morning. Most Labour MPs are Remainers although there are a handful of Leavers.
So what exactly is Labour's position? After a period of constructive ambiguity Labour announced last month it would support full participation in the single market and customs union during a "transitional period".
It was hailed as a dramatic policy shift, positioning Labour as the party of "soft Brexit". But some Labour MPs believe they should be fighting to stay in the EU or at least to remain in the single market after Brexit. Some support the idea of a referendum on any Brexit deal. In short, it's unlikely the party will be able to unite behind one policy. If delegates don't get enough Brexit on the conference floor there are plenty of fringe meetings, including one called: "What Brexit means for music." Refreshments are provided, thankfully.
Mr Corbyn may profess to shy away from personality politics but his opponents won't. The Conservatives are trying to frighten each other (and voters) with warnings about Mr Corbyn. William Hague said this week that the Tories must unite or "Jeremy Corbyn will be the Prime Minister... completely ruining this country". And if fear doesn't hit home, there's ridicule. Sir Vince Cable joked that Mr Corbyn's "acolytes are focused on how to maximise the contradictions of capitalism". Many people will learn about Mr Corbyn via the media. It seems journalists may no longer have access to the conference floor, close to the action, and will have to watch from the balcony. Hell hath no fury like a sketch-writer dumped in the cheap seats.
After a wobbly start, Mr Corbyn has grown in confidence as a political front man, getting to grips with an autocue, something he had never had cause to use during his decades on the back benches, and appearing more poised in media interviews and at the weekly bear-pit of Prime Minister's Questions. His big speech on Wednesday will give him a chance to reach out beyond the party faithful in the hall into the homes of evening news viewers.
His supporters, such as MP Chris Williamson, say Labour will come to recognise Mr Corbyn as the best leader they've ever had - better than the post-war Labour leader Clement Attlee, another unflashy speaker. But will his message cut through to sofa-bound floating voters?
We're told the party's election manifesto "For the Many, Not the Few" will be "fleshed out" at conference. Key pledges include scrapping tuition fees and renationalising the railways.
On tax, Labour would introduce a 45p rate on salaries of over £80,000 and a 50p one for earnings above £123,000. There would be more free childcare, guaranteed incomes for pensioners, 10,000 new police officers and 3,000 extra firefighers. Will Mr Corbyn and his frontbench team - including shadow chancellor John McDonnell (above) - be able to flesh out answers to questions about whether there's enough money to pay for his plans?
Tinkering with the party machine
Labour's ruling body - the National Executive Committee - has agreed to Mr Corbyn's plans to hand more power to party members. At the moment, they've got six representatives on the 35-member NEC. Mr Corbyn wants to create three further seats for them. There's an extra seat for the trade unions too.
The proposals require the approval of conference. Team Corbyn says they are not technicalities but part of a "democratic revolution". Critics say they signify Mr Corbyn 'tightening his grip on the party'. Expect to hear a lot of that phrase.
The 'McDonnell amendment'
Jeremy Corbyn is also keen to reduce the amount of influence MPs have in who leads the party. The current rule is that you only get on the shortlist if you have the backing of 15% of all Labour MPs and MEPs. Mr Corbyn got on the shortlist by the skin of his teeth in 2015 thanks to some kindly Labour MPs who thought that including Mr Corbyn would widen the debate (It certainly did that).
In previous leadership elections, other left-wing candidates haven't been so lucky. John McDonnell, the shadow chancellor, failed to get on the shortlist twice. Mr Corbyn wants to change the rules so that a candidate only needs the support of 10% of MPs. This has become known as the McDonnell amendment. It could mean other wannabe leaders don't have to rely on a pity vote from moderates.
Who gets to speak from the main stage?
In recent years Labour conferences have often been a beauty parade of the party's big names giving set piece speeches in the main hall.
Momentum - Jeremy Corbyn's support group - and others on the left say they want to open it up to "ordinary" party members, back to the pre-New Labour days of conference debating and deciding on party policy.
Decisions about who gets to speak and what is debated are made by the Conference Arrangements Committee and Mr Corbyn apparently wants shorter and fewer set piece speeches.
There had been specualtion that London mayor Sadiq Khan and the mayor of Greater Manchester, Andy Burnham would not get speaking slots, as "punishment" for their past criticisms of the leader, but The Guardian says Mr Khan will get to speak after the Conference Arrangements Committee "managed to secure him a slot".
But all these decisions could be easily be changed, right up to the last minute.