Brexit: UK seeks defence partnership with EU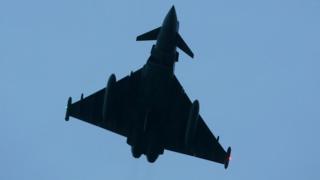 The UK plans to keep contributing to EU defence operations and agree joint foreign policy positions after Brexit, a government paper will set out later.
Britain will offer the EU a "deep security partnership" against terrorism, cyber crime and illegal immigration, it will say.
It will also promise co-operation in imposing sanctions on other states.
The paper is the latest in a series setting out the government's aims for Brexit negotiations.
It will say the government will seek a new partnership that goes beyond existing arrangements with third countries and promise the use of the UK's "assets, capabilities and influence" in security operations.
In her letter formally triggering Brexit in March, Prime Minister Theresa May warned that failure to reach a Brexit deal would mean "co-operation in the fight against crime and terrorism would be weakened".
'Crucial goals'
The UK has the largest defence budget in the EU and, along with France, is one of only two countries in the bloc with permanent membership of the United Nations Security Council.
The paper will point to military co-operation with the EU on tackling piracy off the Horn of Africa and joint projects such as the pan-European Eurofighter Typhoon programme.
"In recent years, the European Union has helped achieve crucial foreign policy goals - from bringing Iran to the negotiating table, to uniting in response to Russian aggression in Ukraine," Foreign Secretary Boris Johnson said.
"We want this EU role to continue after we leave."
He said the UK's commitment to European security was "undiminished".
German Chancellor Angela Merkel has said Europe can no longer "completely depend" on the US and UK following the election of President Trump and the Brexit vote, while European Commission President Jean-Claude Juncker recently called on EU member states to step up their military co-operation.
The UK has previously warned that the EU must not duplicate Nato's role as the main pillar of European defence.
Ahead of the UK security paper's release, the Lib Dems said the government's pursuit of an "extreme" Brexit threatened to leave the UK "isolated on the world stage".