Ministers reject fines for parties missing women MP targets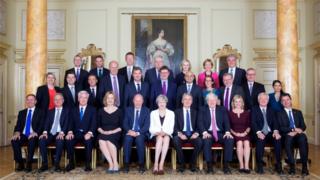 The government has rejected calls for political parties to face fines if they fail to meet targets for female candidates at general elections.
It has rejected six recommendations, including new laws to ensure at least 45% of election candidates are women.
The Commons Women and Equalities Committee accused ministers of a "lack of action and ambition" on the subject.
Ministers say "significant progress" has been made but it is up to political parties to select their candidates.
Targets rejected
In this year's general election, 208 women were elected, at 32% the highest ever proportion, up from 191 in 2015. Six out of 23 full cabinet members are women, including the prime minister.
But they made up only 29% of the total 3,304 general election candidates in 2017.
Data from the Inter-Parliamentary Union suggests that, as of the 2015 election, the UK ranked 46th out of 193 countries for the percentage of women in its lower house.
All six recommendations made by the committee in the previous Parliament have been rejected by the government.
Among them were calls for the government to set a target that 45% of MPs should be women and the same percentage elected in local government by 2030, a 45% minimum threshold for female parliamentary candidates in general elections for each party and for those that fail to hit the target to face sanctions.
But in its response, the government said while it agreed that a "gender-balanced Parliament is long overdue" it must be political parties themselves - not the government - that were responsible for candidate selection and that it did not believe that "overall domestic targets are the solution to increasing representation".
It said progress was being made and parties were using various methods, including mentoring, training, all-women shortlists and fielding more women candidates in winnable seats, to get more women elected.
In its response, the government said: "The main political parties have had some success in increasing women's representation in the House of Commons, but more needs to be done.
"The government does not believe that the best way to achieve this is through legislation and placing an additional regulatory burden on political parties. Instead, we look to the parties to lead the way through further and more vigorous voluntary action."
But Maria Miller, who chairs the Women and Equalities Committee, said more work was needed before the next general election to improve the figures.
She said: "The UK is failing to be a world leader on women's representation. There are still more than twice as many men as women in the House of Commons: after the 2017 election, women still only make up 32% of MPs.
"This demands a vigorous response across the board, but the government has shown it is content to sit on its hands with an approach which has yielded depressingly slow progress so far."
She said government could make a "real difference" and should require parties to publish "diversity data" about their candidate selection to "give people the data to hold parties to account for their progress".
"The government's failure to commit to this - or to accept any of the previous committee's other recommendations - shows a complete lack of action and ambition to bring about real change," she said.
Before 1987, women had never made up more than 5% of MPs.
Your browser does not support this content, please upgrade!