Former Conservative Party chairman Edward du Cann dies at 93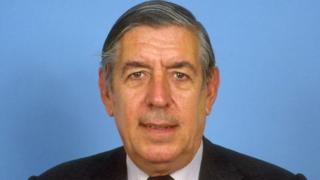 Conservative politician Sir Edward du Cann has died at the age of 93.
He was an MP for more than 30 years and served as a minister in the governments of Harold Macmillan and Alec Douglas-Home in the early 1960s.
During a long political career, he was also chairman of the Conservative party and led the influential 1922 backbench committee for 12 years.
A meeting of MPs he chaired in 1975 sparked a leadership contest which saw Margaret Thatcher defeat Edward Heath.
After leaving full-time politics in 1987, he returned to his extensive business interests, becoming chair of conglomerate Lonhro under its buccaneering and controversial boss Tiny Rowland.
Among those to pay tribute after his death was announced were Tory MEP Daniel Hannan who tweeted that Sir Edward had been "from WW2 torpedo boats to Parliament a model of decency and patriotism".
Sir Edward represented the Somerset constituency of Taunton between 1956 and 1987.
He held a number of middle-ranking ministerial posts in the early 1960s before becoming party chairman under Mr Heath when the party entered opposition after their 1964 defeat.
Over a decade later he hosted a crucial meeting of the 1922 committee of backbench MPs at his London home in which they demanded Mr Heath seek a fresh mandate from the party after his 1974 election loss.
In the ensuing leadership contest Mr Heath was surprisingly defeated by Margaret Thatcher and resigned.
She went on to overwhelmingly win the leadership in a second ballot.
Although his business career and financial affairs were not without controversy, Du Cann was a popular figure in Conservative political circles, addressing a meeting of the 1922 committee in 2013 at the age of 89.