Jeremy Corbyn: Labour must fight to end austerity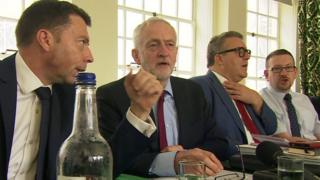 Labour will use every opportunity to challenge the government over its "austerity" programme, Jeremy Corbyn has told his shadow cabinet.
He said "inequality and injustice" had reached "unacceptable" levels and urged frontbenchers to campaign against them.
Mr Corbyn pressed home the message during the first meeting of his shadow cabinet since the recess.
He said he had seen poverty and deprivation at first hand during visits to 41 constituencies over the summer.
Since the frontbenchers last met, Kezia Dugdale has stepped down as Scottish Labour leader and shadow minister Sarah Champion quit the party's front bench after criticism over a newspaper article she wrote about grooming gangs.
The Conservatives say they have been sorting out the nation's finances since getting into power and claim that Labour would wreck the economy.
But Mr Corbyn told his MPs "the public are more with us than they have been for a very long time because they are determined to see an end to austerity in this country".
"The public sector pay cap is hitting workers wages in the public sector and the levels of poverty that we all see in all of our constituencies is something that we're here to speak up for.
"It's up to us, the shadow cabinet of the Labour Party, to take our opposition to the government in Parliament - and to take our opposition out around the country - and force them to realise just what they are doing to ordinary people's lives, and just what they're doing to damage the life chances of a whole generation of young people."
Labour has already announced it will vote against the government's EU withdrawal bill at second reading - the first stage of its passage through the Commons - they claim the bill would allow ministers to "grab powers from Parliament to slash rights at work and reduce protection for consumers and the environment".
The bill, seen as a key part of the government's Brexit strategy, will transfer existing EU legislation into domestic UK law.
It has been suggested that some pro-EU Conservative MPs could back Labour attempts to make changes to the bill.
Mr Corbyn said his MPs "will not allow this government to destroy parliamentary democracy by giving themselves unlimited powers".
There has been renewed speculation in recent days that the 1% cap on wage rises for public sector workers could be partially lifted in this autumn's Budget.
Speaking on Monday, Chancellor Philip Hammond said he would be "keeping a close eye" on the question of pay and whether the government was continuing to strike the right balance in terms of fairness to millions of public sector workers and to taxpayers who pay for public services.
"We keep that balance under constant review to make sure we have got it right and we will keep on doing so," he said.
No 10 has said Theresa May "recognises the sacrifices" that employees have made during years of wage restraint but stressed there is a "process in place" to decide awards across different parts of the public sector.