Why has PM revealed her election leadership plans now?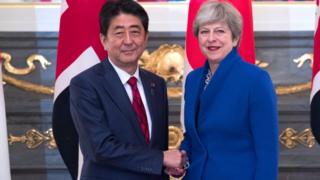 "Serving PM will lead party into next election" should - journalistically - be a run-of-the-mill "dog bites man" story, not "man bites dog".
But Theresa May's remarks caused a stir because they challenged the working assumptions at Westminster.
She was seen as having squandered the Conservatives' slender majority - and she had made clear at a meeting of backbenchers after the general election that she would only stay on for as long as her party wanted her.
So, propped up for now by the DUP, it was widely anticipated that she'd go after Brexit, but before the next election.
So what's changed?
Well, speaking to journalists en route to Japan, it was her intention to quash a Daily Mirror story that she was setting a post-Brexit departure timetable.
Prime ministers who set timetables tend to find that political events and plotting suddenly truncate them.
But to rule out a departure timetable inevitably invited questions about how long she'd last.
She hadn't set off to the Far East to deliver a message that she would "go on and on".
The evidence for that is that the woman portrayed by critics as the Maybot - who repeats an agreed political line ad nauseum - answered broadcasters' questions using slightly different phrases - telling just one of them in terms that she wasn't "a quitter".
But have her interviews changed the facts on the ground?
While some MPs were swiftly deployed to make clear she can indeed stay on, from my soundings the former party chairman Grant Shapps and former Number 10 communications chief Katie Perrior are nearer the mark.
The former told the BBC her performance would be assessed post-Brexit, while the latter - admitting that Theresa May could have said little else in response to questions about her future - believes she still won't lead the party into the next election.
Lack of appetite for a leadership contest, never mind a general election, among her MPs means it's quite safe for the prime minister to say what she said - but it doesn't mean it's any more accurate than her repeated assurances that she wouldn't call a snap election.