UK overestimates non-EU students staying illegally, data suggests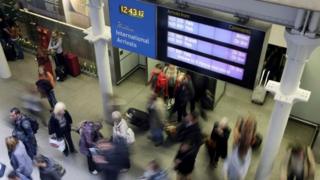 The UK does not have a major problem with foreign students abusing the immigration system by remaining in the country illegally, new data suggests.
Previous estimates showed a large gap between arrivals and departures of foreign nationals who come to the UK to study.
Some suggested this was down to many students staying on illegally at the end of their course.
But the first data based on proper exit checks suggests this may not be true.
It comes as Home Secretary Amber Rudd launched an investigation into the impact of international students on the UK's society and economy.
The review, by the government's Migration Advisory Committee, will look at the effect EU and non-EU students have on the UK labour market while they are in the UK.
The old data on overseas students - like all previous UK net migration estimates - were based on the International Passenger Survey (IPS).
But officials now have access to exit check data, which records actual behaviour rather than what people leaving the UK tell IPS interviewers at ports and airports about their future plans.
When non-EU former students were departing the UK in 2015 and 2016, 28% told the IPS they were unsure how long they would be out of the UK or that they intended to return within 12 months.
Exit checks data suggest the proportion of non-EU students who actually returned is much lower at around 6%, meaning there may have been an underestimate of long-term emigration.
"There is no evidence of a major issue of non-EU students overstaying their entitlement to stay," the ONS said in its report.
The report focused on 1.3 million visas granted to non-European Economic Area nationals which expired in 2016/17, without an extension to stay longer.
It showed that out of 181,024 expired student visas, 176,407, or 97.4%, left the country in-time. There were similar proportions for work (95.4%) and visitor (96.7%) visas.
This gave an overall percentage of 96.3% of visa holders departing before their leave to be in the country ran out.
The ONS report says of the remainder that some may have left but not been identified due to gaps in the data, others will have left late, and some may have overstayed.
Labour's shadow home secretary Diane Abbot said the exit check data showed Prime Minister Theresa May's "long-running campaign to malign international students is based on fantasy, with no evidence of a major issue with students overstaying".
'Bogus targets'
She added: "Some in government appear to be waking up to the idea that overseas students make a valuable contribution to our country and have belatedly asked the Migration Advisory Committee to gather evidence.
"Labour will offer fair rules and reasonable management of migration; prioritising jobs, growth and prosperity, not bogus net migration targets."
But the Home Office said the exit check report showed its efforts to shut down bogus colleges and curb visa abuses were working.
"There is no limit on the number of genuine international students who can come to study in the UK.
"The exit checks report shows that the measures the government has introduced to crack down on abuse of student routes are working and we now have high levels of compliance.
"At the same time we've maintained a highly competitive offer for those talented international students who want to learn at our top institutions, and the number of sponsored applications to study at our universities have continued to rise."
'Detailed examination'
The new data has led to fresh calls for Mrs May to remove students from her overall net migration target of 100,000.
A spokesman for the left-leaning IPPR think tank said: "If the Home Office continues to rely on this data to inform a restrictive policy on international students, then it is in all likelihood spending valuable government time and resources on a problem that simply does not exist.
"Given this new revealing analysis from exit checks data, the government should now urgently explore ways to remove students from the migration target altogether."
Lib Dem leader Sir Vince Cable, who fought against curbs on non-EU students when he was business secretary in the coalition government, said: "As we argued repeatedly with Theresa May, overseas students bring huge economic benefits to universities and the broader economy.
"It makes no sense for students to be included in official immigration statistics."
The in-depth analysis of the impact of international students on the economy will also look at the impact of tuition fees and other spending by foreign students on the national, regional and local economies.
It will consider the impact their recruitment has on the quality of education given to domestic students.
The committee is due to report back by September next year.
Alistair Jarvis, chief executive of Universities UK, said: "We welcome the government's commitment to a detailed examination of the net benefits of international students.
"This is an opportunity to build on the considerable evidence that shows that international students have a very positive impact on the UK economy and local communities."