RSPCA seeks new powers to seize 'suffering' animals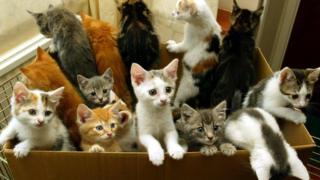 The RSPCA is seeking new powers in England and Wales to search some private property, including sheds and gardens, without a police warrant.
It also wants inspectors who have been invited to enter a home to be able to "seize animals in distress" without awaiting a police presence.
David Bowles, the RSPCA's head of campaigns, said expanding enforcement powers would "improve animal welfare".
He described the charity's current powers as a "sort of halfway house".
"The RSPCA is 193 years old, so we were set up before the police to investigate animal welfare offences, and of course times have moved on," Mr Bowles told BBC One's Breakfast.
"You've got an NGO [non-governmental organisation] which has no powers investigating animal welfare."
The government "knows something needs to change," he added.
Prolonged suffering
Mr Bowles confirmed the RSPCA is in talks with the UK and Welsh governments and police.
In a statement, the charity said it wanted inspectors to have the power to enter "outbuildings and land where it is believed an animal is suffering".
It stressed it was not seeking to extend this power to "private residences", for which inspectors would still need a police warrant.
In addition, it wants RSPCA inspectors, who have a warrant, to be able to act alone where animals are in distress: "At present we have to wait for the police and a vet which could prolong an animal suffering."
The proposed powers would bring the RSPCA in line with Scotland and the Republic of Ireland, where the SSPCA and ISPCA have been given similar powers under their animal welfare legislation.
'Charm and assertiveness'
In 2014, the RSPCA commissioned an independent review into its prosecution activity, which said inspectors were "dependent on a combination of charm and assertiveness to gain access to premises".
In the report by Stephen Wooler - a former Crown Prosecution Service Inspector - Mr Wooler recommended giving RSPCA inspectors "the tools to do the job... on the basis that current gaps in transparency and accountability are closed".
But earlier this year, MPs said there was a "conflict of interest" between the charity's power to prosecute and its roles in campaigning, fundraising and investigating cases.
In April, the Environment, Food and Rural Affairs committee recommended the RSPCA should continue its work investigating animal welfare cases, but "withdraw from acting as a prosecutor of first resort".
Simon Hart, a Tory MP and former head of the Countryside Alliance, told the Telegraph he would be writing to Environment Secretary Michael Gove about the RSPCA's new proposals.
He said: "The RSPCA is a welfare charity, not a private police force."