Local and mayoral results: Tories advance amid Labour losses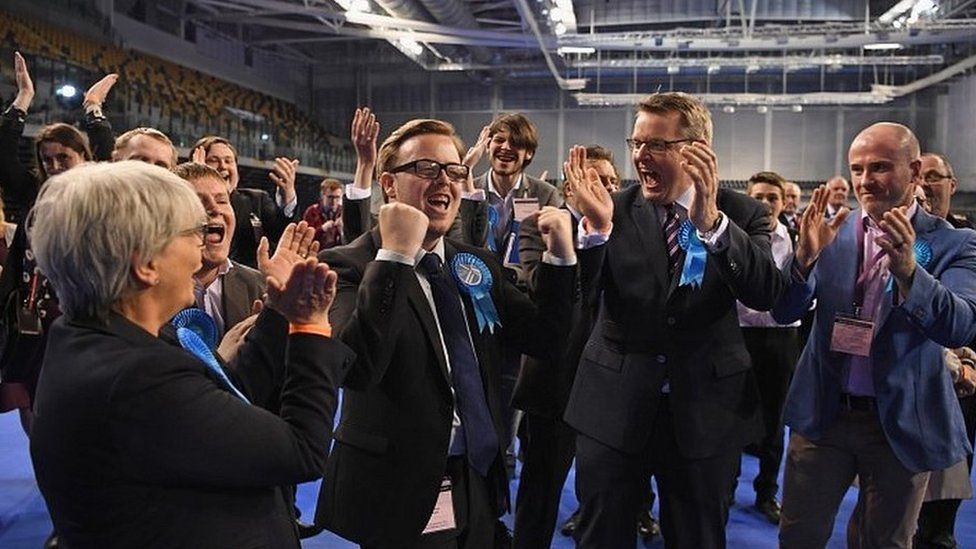 The Conservatives have made the biggest gains by a governing party in a local election for more than 40 years.
With five weeks to go to the general election, they gained more than 500 seats and seized 11 extra councils.
The gains mainly came at the expense of Labour, which came third in Scotland, and UKIP, which lost all of its seats. The Lib Dems failed to make headway.
Polling expert John Curtice puts the Tories' national vote share at 38%, Labour 27%, Lib Dems 18% and UKIP 5%.
Conservative leader Theresa May sought to combat any complacency in her party's ranks by saying she was "taking nothing for granted" in 8 June's general election.
Mrs May said she would be fighting every day of the next five weeks to "earn the support of the British people" to strengthen her hand in negotiations with the European Commission over Brexit.
Labour leader Jeremy Corbyn said his party had done better than expected in some places, such as Cardiff and Swansea, but results elsewhere had been "very disappointing".
"Of course I'm disappointed, we have to get our supporters out to vote in June, we have to get our message across and I'm utterly determined to do that," he said.
He insisted he was the right person to get Labour's message across to voters but conceded that Labour faced a challenge on a "historic scale" if it is to regain power.
"We know this is no small task," he said in a statement, "but we, the whole Labour movement and the British people, can't afford not to seize our moment."
Polling expert John Curtice, of Strathclyde University, said that if the council results were reflected at next month's general election, Theresa May would win a bigger majority - but probably not enough to get the landslide she was hoping for.
The 11-point Tory lead over Labour in the projected national share is smaller than their 17% average lead in recent opinion polls, he added, but he cautioned against reading too much into the projections.
Analysis: By BBC Political Editor Laura Kuenssberg
Much could change in the coming weeks of what's likely to be a brutal general election campaign.
Theresa May insists still that the vote could be close, warning her supporters not to take a majority for granted.
The results don't translate necessarily into a big Tory win. But according to those who put crosses in a box on Thursday, the ground is prepared.
Sorry, your browser cannot display this map
Good times for the Conservatives
The Conservatives gained more than 500 councillors and won closely fought battles for elected Metro Mayors in the West Midlands and Tees Valley.
They also forced Labour into third place in its former stronghold of Scotland and won control of Monmouthshire in Wales.
Their victories in English county council elections, where they gained control of Derbyshire, Norfolk, Warwickshire, Lincolnshire, Gloucestershire and the Isle of Wight, were fuelled by a collapse in the UKIP vote, as anti-EU supporters appeared to flock to Theresa May's party.
Disappointment for Labour
Labour lost control of seven councils - including Glasgow, where it has held power for decades, and saw its number of seats go down by 382.
It also lost the metro mayor contests in the West Midlands and Tees Valley, a traditional Labour heartland, to the Conservatives - but former cabinet minister Andy Burnham scored a big win in Greater Manchester.
Shadow chancellor John McDonnell acknowledged that Labour had suffered a "tough" night, but insisted the results were not "the wipe-out that some people expected".
There was still "all to play for" in the general election in just five weeks' time, he added, insisting "we can close that gap".
Voters in the West of England, Greater Manchester, the Liverpool City region, the West Midlands, Tees Valley, and Cambridge and Peterborough have elected "metro mayors" covering combined local authority areas.
The Conservatives have won four out of the six new mayor posts.
Labour former cabinet minister Andy Burnham has won Greater Manchester, with 63% of the vote - hailing it is a "new era" in British politics - and Steve Rotherham won for Labour in Liverpool.
In the West Midlands, Conservative Andy Street, a former John Lewis boss, beat former Labour MP Sion Simon.
Ben Houchen, who won Tees Valley for the Conservatives, said after defeating Labour's Sue Jeffrey: "We are seeing a massive trend towards the Conservatives. We have started to turn the Tees Valley blue."
The mayors will mostly be responsible for economic development, but some will have powers over transport and housing.
What's happened in Scotland?
The SNP has replaced Labour as the biggest party in Glasgow, but fell short of a majority.
And despite also replacing Labour as the largest party in Aberdeen, and finishing as comfortably the biggest party across the country, the SNP lost overall control of Dundee and Angus councils - the only two areas where it had won majorities in 2012.
It was a strong night for the Conservatives, who increased their number of councillors by more than 130, including in areas that had previously been "no-go" for the party.
SNP leader and Scotland's First Minister Nicola Sturgeon said it was a "clear and emphatic" victory for her party and a "great springboard for the general election," saying the Tory gains were at the expense of Labour.
But Labour's John McDonnell said the SNP had fallen back, a sign of the "increasing rejection" of the case for a second independence referendum.
What's happened in Wales?
It was a mixed picture for Labour in Wales, where it has been the dominant force in local government for decades.
Labour lost control of Blaenau Gwent and Bridgend, and its leader in Merthyr Tydfil, but held seven councils.
Wayne David said the Tories made fewer gains than expected as Welsh Labour was "in touch with people's realities".
The highlight for the Conservatives was winning a majority in Monmouthshire, but they also made progress elsewhere, increasing their number of councillors by 80.
Welsh Tory leader Andrew RT Davies said his party made "huge strides in the Vale of Glamorgan, doubled our representation in Wrexham, and reached double digits right in the backyard of the first minister [in Bridgend]".
Vaughan Gething, a member of the Labour government in Wales, said there was an "awful lot of work" for the party to do before the general election.
He told Radio 4's Today there had been "mixed messages" on the doorsteps about Jeremy Corbyn but there had also been strong results - with his party "turning back the Tory tide" and managing to hold on to Cardiff, Newport and Swansea.
UKIP's 'challenging night'
UKIP's foothold in local government achieved four years ago was wiped out, as the party lost 145 seats and made just one gain.
In Lincolnshire, where UKIP had 16 councillors elected in 2013 and was the official opposition on the council, the party has lost all of its remaining 13 seats.
It also lost all its seats in Warwickshire, Hampshire, Essex and the Isle of Wight, which were taken by the Conservatives.
Former UKIP leadership contender Steven Woolfe said the party's influence was "at an end" and its former MP Douglas Carswell said "it was over".
But party leader Paul Nuttall said UKIP, which did well in 2013 council elections and won 3.8 million votes in the 2015 general election, was a "victim of its own success".
What about the Lib Dems and Greens?
The Lib Dems increased their share of the vote by 7% but lost more than 40 seats.
Lib Dem president Sal Brinton described her party's performance overall as "patchy", while former business secretary Vince Cable said there had been no "spectacular breakthrough".
The Conservatives saw off the Lib Dems' challenge to hold on to Somerset County Council and in Cumbria, where party leader Tim Farron is hoping to be re-elected as MP for Westmorland and Lonsdale, they failed to increase its representation.
The Green Party gained six seats, while Plaid Cymru added 33 in Wales.
What's your reaction to the results? Tell us who you voted for and why by emailing haveyoursay@bbc.co.uk.
Please include a contact number if you are willing to speak to a BBC journalist. You can also contact us in the following ways: