Election 2017: Which MPs are standing down, and who might be standing?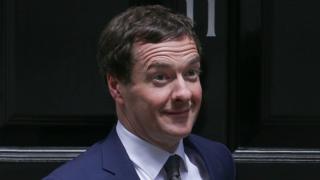 The surprise election on 8 June has brought things into sharp focus for MPs looking for a way out of politics - and offers a possible way back for their former colleagues wanting to return.
Some of the big names stepping down include George Osborne and Sir Eric Pickles, while Tony Blair and Wikileaks founder Julian Assange are among the more surprising names to suggest, perhaps not entirely seriously, that they are thinking of standing.
---
Those who are going...
George Osborne
The former chancellor once feted as the likely successor to David Cameron as prime minister has announced he will not seek re-election as Conservative MP for Tatton, Cheshire.
Mr Osborne was sacked as chancellor after Theresa May became the party's new leader in July. He has since become the editor of the London Evening Standard newspaper as well as taking a job for the fund manager BlackRock, among others, prompting calls for him to stand down.
Announcing his decision not to seek re-election, the 45-year-old said he was stepping down "for now".
Sir Eric Pickles
Former Conservative Party chairman Sir Eric Pickles, 65, is standing down as MP for Brentwood and Ongar after 25 years.
Sir Eric, who had been the communities and local government secretary between 2010 and 2015, said he was going to "miss it dreadfully" but there always came a point when things must end.
Andrew Tyrie
The long-standing chairman of the Treasury Select Committee, who has locked horns with Boris Johnson, HMRC and Bank of England governor Mark Carney, will quit his safe Conservative seat.
Mr Tyrie, 60, said it had been an "exhilarating" 20 years as MP for Chichester in West Sussex but that he was "hopefully young enough" to contribute to public service in other ways.
Douglas Carswell
Douglas Carswell, UKIP's first elected MP who later became an independent after falling out with senior figures in the party, will not be seeking re-election in Clacton.
Instead, the political maverick will lend his support to the Conservatives, the party he defected from in 2014, causing political shockwaves at the time.
Farewell to an independent-minded MP
Alan Johnson
Regarded by some in Westminster as the best leader Labour never had, Alan Johnson is to stand down from the Hull West and Hessle seat he has held since 1997.
Announcing his decision not to seek re-election, the former postman and union official who rose to become home secretary under Gordon Brown, said it was "best for the party".
Gisela Stuart
Labour's Birmingham Edgbaston MP, who was a key figure in the campaign to leave the EU, has decided not to seek re-election.
Ms Stuart, who has represented the Midlands seat since 1997, told local supporters it was "time to stand down and pass on the baton".
Andy Burnham
Andy Burnham, a former Labour health secretary and now tipped as favourite to become Mayor of Greater Manchester, says he will not stand again in June.
Mr Burnham, MP for Leigh for 16 years, had two shots at party leadership, coming fourth in 2010 and second to Jeremy Corbyn in 2015.
Other MPs known to be not standing
Tom Blenkinsop - Labour (Middlesbrough South and East Cleveland) elected in 2010
Graham Allen - Labour (Nottingham North) elected in 1987
Iain Wright - Labour (Hartlepool) elected in 2004
Pat Glass - Labour (North West Durham) elected in 2010
Simon Burns - Conservative (Chelmsford) elected in 1987
John Pugh - Lib Dem (Southport) elected in 2001
Andrew Smith - Labour (Oxford East) elected in 1987
Angela Watkinson - Conservative (Hornchurch and Upminster) elected in 2001
Jim Dowd - Labour (Lewisham West and Penge) elected in 1992
Fiona Mactaggart - Labour (Slough) elected in 1997
Rob Marris - Labour (Wolverhampton South West) elected in 2015
Sir Gerald Howarth - Conservative (Aldershot) elected in 1997
Dave Anderson - Labour (Blaydon) elected in 2005
Michael Dugher - Labour (Barnsley East) elected in 2010
Michelle Thomson - Independent (Edinburgh West). Ms Thomson was elected as SNP MP in 2015, but resigned the party whip amid a police probe into property deals. After being rejected for SNP selection, she said she would not stand again at this time
Sir Alan Haselhurst - Conservative (Saffron Walden) elected in 1977
David Mackintosh - Conservative (Northampton South) elected in 2015
Karen Lumley - Conservative (Redditch) elected in 2010
Andrew Turner - Conservative (Isle of Wight) elected in 2001
---
Those hoping to return...
Zac Goldsmith
The former Conservative MP, Zac Goldsmith, has been re-selected as the party's candidate in Richmond Park.
Goldsmith resigned from the party and stood as an independent in a by-election before Christmas in protest at the government's decision to give the go-ahead to the expansion of Heathrow Airport.
But he lost to the Liberal Democrats' Sarah Olney, who is standing for re-election.
Esther McVey
The former employment minister, who was a TV presenter before entering Parliament, lost her Wirral West seat in 2015 to Labour's Margaret Greenwood (who is standing again).
She has been selected to stand in George Osborne's former Tatton seat.
Sir Vince Cable
Sir Vince Cable, who served as former business secretary in the coalition government from 2010-2015, is one of a batch of Lib Dems who have confirmed they will stand again.
A former Labour councillor, the 73-year-old was first elected as MP for Twickenham in 1997 but was defeated by Conservative Tania Mathias in 2015 after the Lib Dems lost dozens of seats. Ms Mathias is expected to stand again.
Announcing his decision to stand again, Sir Vince said "Bring it on!".
Sir Simon Hughes
A former Lib Dem deputy leader and minister of state for justice and civil liberties in the coalition government, Sir Simon Hughes said he intends to be the party's candidate to fight the Bermondsey and Old Southwark seat in south London, which he lost to Labour's Neil Coyle in 2015. Mr Coyle is standing again.
Sir Ed Davey
Sir Ed Davey, 51, is another Lib Dem heavyweight to announce his return to the political fray.
Confirming his intention to stand again for election in Kingston and Surbiton, the former energy secretary in the coalition government told the Independent: "We will be the surprise in this election, we will do far better than people currently think."
The seat was won by Conservative James Berry in 2015, with a majority of 2,834. Mr Berry is standing again.
Jo Swinson
A former deputy leader of the Scottish Liberal Democrats, Jo Swinson was once Parliament's youngest MP, after she was elected to East Dunbartonshire in 2005, but was ousted in 2015 by the SNP's John Nicolson, who is standing for re-election.
Sir Bob Russell
The former Liberal Democrat MP for Colchester, Sir Bob Russell, is to stand again, despite retiring from politics after his defeat in 2015 to Conservative Will Quince.
Sir Nick Harvey
Previously an armed forces minister, former Liberal Democrat MP, Sir Nick Harvey, 55, has told the BBC he will be seeking re-election after losing his seat in North Devon in 2015 to Conservative Peter Heaton-Jones.
---
Out of the race...
Ed Balls
Former shadow chancellor Ed Balls will not be standing in the Morley and Outwood constituency he held for five years and is not expected to stand anywhere else.
Mr Balls, who lost his seat in the 2015 general election, has arguably since become best known for his dance moves on the last series of Strictly Come Dancing, in which he became a fan favourite.
Arron Banks
The former UKIP donor was all set to take on Douglas Carswell in Clacton - the two are not the best of friends - but since Mr Carswell pulled out the insurance tycoon has had a change of heart.
After visiting UKIP volunteers in the Essex seaside town - a place he cheerfully admitted he knew nothing about - he has said he has "no intention of standing in the way of hard-working activists who are the soul of the party".
He will instead endorse local UKIP councillor Jeff Bray for the role and "give the local party financial assistance to fight the election".
Nigel Farage
The former UKIP leader briefly flirted with an eighth attempt to get elected to the House of Commons, saying he could have had an "easy" win in the former UKIP seat of Clacton, but has thought better of it.
He says he has more clout as a member of the European Parliament, where he will continue to "fight for Brexit".
Karen Danczuk
The ex-councillor and former wife of suspended Labour MP Simon Danczuk had applied to be Labour candidate for the Conservative-held Bury North seat.
Ms Danczuk, dubbed the "selfie queen" by the tabloid press after posting pictures of herself on Twitter, had said she was "a voice of the people".
However, the party has chosen James Frith to stand for the seat, currently held by David Nuttall.
Simon Danczuk
The MP was suspended as a member of the Labour Party in 2015 over allegations about his private life.
He intended to stand for re-election as the party's candidate in Rochdale but Labour had other ideas.
A Labour spokesman said: "After considering the case of Simon Danczuk in detail and speaking to him in an interview, the Labour Party's NEC endorsement panel unanimously recommended that he should not be endorsed as a Labour candidate."
---
Hoping to stand for the first (or second) time...
Paul Nuttall
The UKIP leader - who recently failed to take Stoke-on-Trent from Labour in a by-election - wavered for a few days but has now confirmed he will stand in Boston and Skegness.
The constituency, held by the Conservatives in 2015 with UKIP second, recorded the highest Leave vote in the EU referendum, with 75.6% choosing to leave the EU.
Mr Nuttall said he would make it his "mission" to "ensure there is no backsliding on Brexit".
Jack Monroe
The food blogger and campaigner Jack Monroe will stand for the National Health Action Party in Southend West, against Conservative Sir David Amess.
Announcing the plan on Twitter, the activist said: "Those who know me will know how much I fear meeting new people, which makes the next six weeks a huge personal challenge on every level...
"...but some things are bigger than me, so today I'm digging deep and heading to Southend High St to meet campaigners fighting for our A&E."
---
Will they, won't they?
Steve Rotherham
Will Labour's candidate to be Liverpool's first "metro mayor" - and a staunch ally of Labour leader Jeremy Corbyn - continue to sit as an MP if he wins 4 May's poll?
His ultra-safe Liverpool Walton seat would be a prize for any aspiring Labour politician and there is a row brewing locally about a candidate being "parachuted in" by the party's London HQ.
And finally, a few long shots...
Tony Blair
He won three elections while leader of the Labour Party, before stepping down in 2007, but could Tony Blair - now 63 - be making a big political comeback in this snap election?
The former MP for Sedgefield - and prominent Remainer - got tongues wagging during an exclusive interview with BBC Radio 4's The World This Weekend, after he admitted there was a temptation to get back into Westminster politics to fight against a hard Brexit.
"I feel for the first time since I first came into politics, I look at the British political scene at the moment and I actually almost feel motivated to go right back into it," he said.
In an interview marking the 20th anniversary of his 1997 election victory, he later told The Observer that he wanted to "reconnect with voters" and "get his hands dirty" again but insisted he would not be a candidate in June.
David Miliband
There has been speculation about whether David Miliband might return to politics after stepping down as an MP in 2013.
The former foreign secretary under Gordon Brown, who was surprisingly defeated by his brother Ed in the 2010 Labour leadership contest, declined to rule out a return to UK politics in an interview with the Times in February.
Julian Assange
The Wikileaks founder may have been holed up in the Ecuadorian Embassy in London since 2012, but has still suggested, perhaps light-heartedly, that he could stand in the election.
Mr Assange tweeted: "I can run for Parliament in any constituency in the UK. Ha ha. So which one?"
---
Sign-up to get news from the BBC in your inbox, each weekday morning