CBI chief warns against 'no deal' Brexit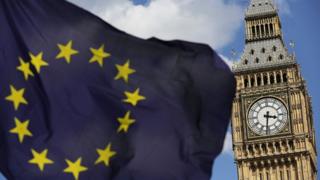 Leaving the EU without a trade deal would be "irresponsible", the president of the CBI business group has warned.
Paul Drechsler says he agrees with the PM that a deal can be done but it is "wrong" for others to suggest the only choice is to leave without one.
He claims both UK and European firms fear this "worst-case scenario".
But the Department for Exiting the EU says it wants "a bold and ambitious" trade agreement that will give UK firms the maximum freedom to trade in the EU.
Pro-Brexit group Change Britain accused the CBI of being "proven wrong time and again on Europe" and said it should be "more optimistic" about the UK.
Pandora's Box
Mr Drechsler's speech at the Lord Mayor's Business and Investment dinner in London, comes in the wake of similar warnings from the British Chambers of Commerce and former chancellor George Osborne earlier this week.
Speaking at the Mansion House, he argued that while business supports the government's plan for an ambitious trade deal, the CBI is working with business groups throughout the EU on a deal that is in everyone's interests.
"But to those whose first and only choice is for Britain to walk away without a deal, I say you're not only wrong but irresponsible..." he said.
"A 'no deal' scenario would open a Pandora's Box of economic consequences.
"The UK would face tariffs on 90% of its EU exports by value and a raft of new regulatory hurdles. Let's remember these barriers would hurt firms on both sides of the Channel."
While some businesses are already preparing for such a "worst-case scenario", others are unable to do so because the costs are too high, said Mr Drechsler, who claims a "smooth Brexit" would be in "everyone's interest".
'Spirit of goodwill'
Theresa May has said Article 50, which kick starts the formal process of the UK leaving the EU, will be triggered by the end of this month.
While the prime minister has expressed determination to secure an agreement, she has also said that "no deal is better than a bad deal".
Foreign Secretary Boris Johnson claims Brexit will enable the UK to be "ever-more European and ever-more internationalist" at the same time - and there is every reason to believe a "win-win" EU deal can be done within the two-year timeframe for Brexit negotiations.
And a spokesman for the Department for Exiting the EU said: "We have been clear that we will pursue a bold and ambitious trade agreement with the European Union - giving British companies the maximum freedom to trade with and operate within European markets, and letting European businesses do the same in Britain.
"As we approach the negotiations, we are doing so with a spirit of goodwill and a determination to secure a deal that works for both the UK and the EU."
'Pessimistic'
But Change Britain spokeswoman Chloe Westley said: "The CBI campaigned to join the euro and warned of economic disaster if we left the EU. It has been proven wrong time and again on Europe and there is no reason to suggest that this has now changed.
"It is overwhelmingly in the EU's interests to strike a free trade agreement with the UK. Instead of being pessimistic about our future, the CBI should support the government in getting the best deal for Britain."
And Patrick Minford, chairman of Economists for Brexit, said it was wrong to assume that Brexit without an EU trade deal would be bad for the UK.
"Our research demonstrates that that if the UK removes all import tariffs, even if the EU does not reciprocate, we will add to 4% to GDP and 7.3% to UK treasury receipts, compared to the status quo," he said.
"Our economy can and will flourish outside the single market and we do not need a trade deal with the EU to deliver that."
---
About World Trade Organisation rules
WTO sets rules for international trade that apply to all members, no free movement or financial contribution, no obligation to apply EU laws although traded goods would still have to meet EU standards, some tariffs would be in place on trade with the EU, trade in services would be restricted.
If talks - with the EU and others - do not reach a deal before Brexit takes effect, trade rules would default to World Trade Organisation (WTO) rules.
The UK and EU would be obliged to apply to each other the tariffs and other trade restrictions they apply to the rest of the world.
That is because the WTO rules allow countries to discriminate in favour of a trade partner only in a limited number of circumstances - including a full bilateral trade deal.