Corbyn: State should take control of failing care homes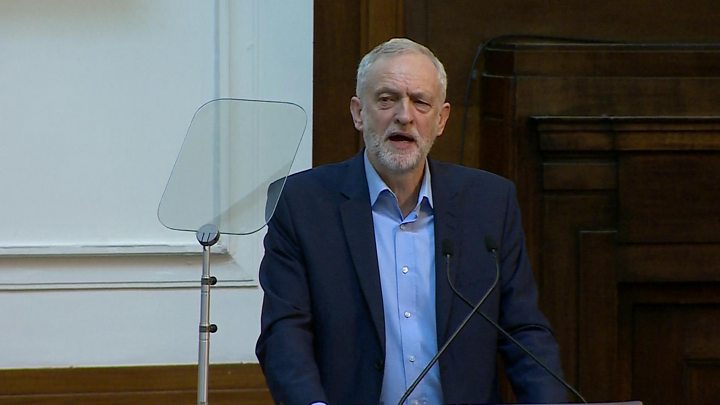 Failed care homes could be taken into public ownership under a future Labour government, Jeremy Corbyn has said.
The Labour leader warned that the social care system in England was at risk of breaking down because of growing demand and financial pressures.
He cited King's Fund research suggesting one in five nursing homes does not have enough staff on duty.
Speaking in London, Mr Corbyn also argued the economic system had been "rigged" against working people.
In a speech to the Fabian Society, Mr Corbyn promised a "clean break" from the austerity of recent years.
He defended the direction he is taking the party in amid warnings, most recently from the think tank, that Labour is heading for likely defeat at the next general election and could be reduced to fewer than 200 seats.
Following Tristram Hunt's resignation as Stoke-on-Trent Central MP on Friday, Labour faces two by-elections in the coming months.
'Political earthquakes'
Mr Corbyn has insisted that he has not lost control of the party after Mr Hunt followed Jamie Reed, the MP for Copeland, in quitting Parliament.
Mr Corbyn said Brexit and other "global political earthquakes" last year did not come out of nowhere but were the result of a political elite that had become divorced from the people they govern.
"The people who run Britain have been taking our country for a ride," he said.
"They have rigged the economy and business rules to line the pockets of their friends... the truth is the system simply does not work for the vast majority of people."
Repeating his call for an immediate injection of funding into the NHS and social care system, he said his focus on the issue is because the NHS is in a "danger zone".
In his speech Mr Corbyn also said:
More powers should be devolved from government to "every city street, town avenue and country lane across the country"
Britain could be "better off" after leaving the EU but this would require a "genuine industrial and regional strategy"
Labour will push to maintain full access to the European single market in any Brexit deal
Immigration under Labour would be managed in a way that is "best for the economy", including "stamping out the exploitation of migrant workers"
Politicians needed to "cool our language" about immigration, saying words used by some had given a "green light to hatred"
Labour would create a national investment bank to "support investment-led growth" and build thousands more "genuinely affordable homes"
The "shambolic" private train system would be renationalised under a Labour government
'Rebalance Britain'
Labour has urged the government to bring forward £700m of extra funding to help the NHS through the winter months.
The opposition has said it will give the social care system the funding it needs if it gets into power, partly by reversing government cuts to corporation tax.
Mr Corbyn said too many care homes did not have adequate nursing provision and Labour would be prepared to intervene if necessary in the most serious cases of financial mismanagement and clinical negligence.
"A total of 380 care home businesses have been declared insolvent since 2010," he said.
"That's because the amount councils pay towards fees for residents is falling while costs are increasing.
"A Labour government would give social care the funding it needs and give a firm commitment to take failed private care homes into public ownership to maintain social care protection."
'Exploitation of migrants'
He also spoke about the UK leaving the EU, saying there was a "compelling need to use our exit from the EU to rebalance Britain and provide a vision for what the country could be".
Mr Corbyn defended immigration, saying "tens of thousands of [immigrants] keep our National Health Service going" but he said Labour would seek to end the exploitation of migrant workers, which he said "drive down terms and conditions for everyone".
Mr Corbyn said the UK could be "better off" outside the EU, "but it's far from inevitable and it won't happen with a government that stands by while wages are driven down, while industry declines and while public services are sent into meltdown".
Ministers have acknowledged there are real pressures in both the NHS and care system but say they met NHS England's funding request in full last year, and are allowing councils to spend more on social care this year by bringing forward increases in council tax precepts.