Jeremy Corbyn outlines plans to 'cap' boardroom pay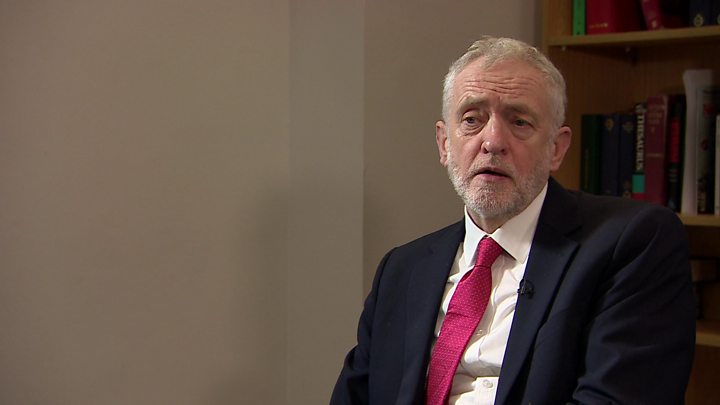 Jeremy Corbyn has set out plans to curb boardroom pay while seeming to back away from the idea of a maximum wage.
Options to be considered by Labour include increasing income tax for the top earners and giving remuneration committees a veto on pay packages.
Companies which cap pay differentials could also pay less corporation tax.
Labour's leader initially appeared to back ceilings on earnings, an idea one economist claimed was "lunatic", but later said it was hard to enforce.
A spokesman said Mr Corbyn had "misspoke" during a BBC interview in which he said he personally favoured a limit on maximum earnings.
In a speech in Peterborough, Mr Corbyn did not mention bringing in an absolute cap, instead saying excessive pay at the top of society was "driving poverty pay" at the bottom.
The Labour leader said it was not fair some chief executives were earning more in a matter of days than many of their workers took home in an entire year.
Under a future Labour government, he said the chief executive of any company awarded a government contract would not be paid 20 times more than the company average. But he proposed going further by introducing measures across the private sector.
This, he said, could be done voluntarily, through a kitemark scheme for firms agreeing to meet certain pay ratios. Labour will also consider corporate governance reforms, such as giving pay committees on which workers have a majority a binding say on pay awards.
Labour will also consider using the tax system to incentivise businesses by asking high earners to pay more tax on the top 1% or 5% of income.
"This is not about limiting aspiration or penalising success," he said. "It is about recognising that success is a collective effort and rewards must be shared.
"We cannot have the CEO paying less tax than the cleaner… and pretending they are worth thousands times more than the lowest paid staff."
Earlier he told BBC Radio 4's Today programme that he favoured a maximum pay limit as part of a vision of a more "egalitarian society". But answering questions from reporters after the speech, he favoured limiting pay ratios between the top and bottom.
---
How would national maximum wage work?
Analysis by Kamal Ahmed, BBC business editor
Given that a direct limit (making it "illegal" for example for anyone to earn over, say, £200,000) would be almost impossible to enforce in a global economy where income takes many forms - salary, investments, returns on assets - very high marginal rates of tax could be one way to control very high levels of pay.
Another could be by imposing limits on the pay ratio between higher and lower earners in a company - possibly a more politically palatable option.
The High Pay Centre, for example, supports considering this approach.
---
He also told the BBC he had not changed his mind on immigration and still believed numbers were not too high.
His remarks on immigration, in an interview with BBC political editor Laura Kuenssberg, came ahead of a speech which pre-briefing had suggested would see the Labour leader going cool on the principle of EU freedom of movement.
The idea of a maximum earnings cap was first raised by Mr Corbyn during Labour's 2015 leadership contest.
He told Radio 4's Today he now wanted Labour to consider the idea, as levels of income disparity were getting worse.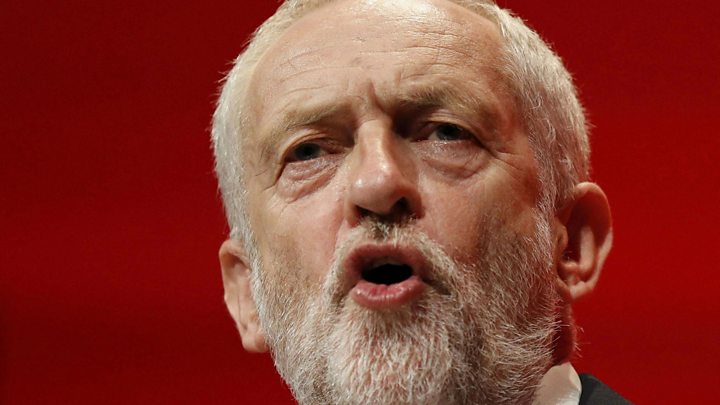 "We cannot set ourselves as being a sort of grossly unequal bargain basement economy on the shores of Europe. If we want to live in a more egalitarian society and fund our public services, we cannot go on creating worse levels of inequality," he said.
In an interview with the BBC he said it was indefensible for chief executives of some of the UK's largest companies to be earning 100 times what their employees were taking home.
"Other countries have got some policies developing this and I think we need to consult with them and learn some lessons on this."
Edwin Morgan, from the Institute of Directors, conceded that firms needed to listen to public and political concerns and "moderate" their pay awards but said a pay cap was a "blunt tool".
Two economists who have advised Mr Corbyn in the past also expressed misgivings.
Danny Blanchflower said it was "totally idiotic, unworkable" idea while Richard Murphy suggested it made "no economic sense", telling BBC Radio 4's World at One Mr Corbyn "needs to sit down and get some proper advice".
The BBC's assistant political editor Norman Smith said an ally of Mr Corbyn's on the shadow cabinet said they knew nothing about the maximum wage policy while the idea received a lukewarm response from some Labour MPs.
Emma Reynolds told the BBC's Victoria Derbyshire show she believed there were "other ways" to tackle the pressing issue of income inequality.
UKIP leader Paul Nuttall said a cap on earnings would amount to the "politics of envy" and would see the "best people" in the City moving abroad.
Before becoming prime minister, Theresa May suggested shareholders hold binding votes on executive pay and publish the pay differentials between executives and workers. She has since been accused of watering down planned changes following business criticism.
In his Today interview Mr Corbyn also attacked the government's lack of clarity over its negotiating objectives and said that while there was no doubt that Brexit would happen, the UK must continue to have a close trading relationship with the EU after its exit.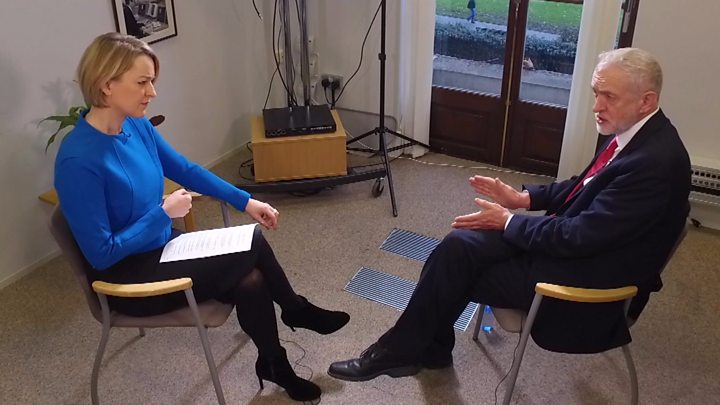 "What we don't want to do is turn Britain into a bargain basement economy on the shores of Europe where we continuously reduce corporation taxation, encourage a low-wage economy," he said.
"Instead what we want is a high-value economy with skilled jobs promoting high-quality exports."