Nigel Farage to present daily radio chat show on LBC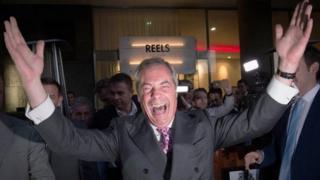 Former UKIP leader Nigel Farage is to present a daily chat show on the London radio station LBC.
The Nigel Farage Show will air from 19:00 to 20:00, Mondays to Thursdays, with the host describing it as "full of opinions, callers and reaction".
He tweeted: "I invite listeners to agree with me, challenge me & together we can lead Britain's conversation."
Mr Farage, a friend of US President-elect Donald Trump, is an MEP for South East England.
He resigned as UKIP leader last summer, but returned on an interim basis after his successor, Diane James, resigned only 18 days into the job.
Mr Farage's former deputy, Paul Nuttall, won the second leadership contest of the year.
Mr Trump has said Mr Farage - among the first politicians to visit the president-elect after his victory last year - would make a "great" UK ambassador to the US, but Downing Street responded that there was "no vacancy".
The former UKIP leader has previously taken part in occasional Phone Farage shows on LBC. The new regular slot begins next Monday.