Sir Tim Barrow: UK's new ambassador to EU 'tough negotiator'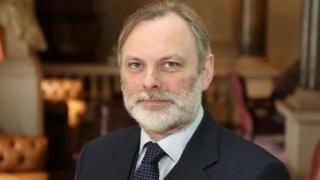 Downing Street has called the UK's new ambassador to the European Union a "seasoned and tough negotiator", who will bring "energy" to Brexit talks.
Sir Tim Barrow takes on the role with discussions with the EU expected to start soon and promised to work for the "right outcome".
He replaces Sir Ivan Rogers, who quit earlier this week, accusing ministers of "muddled thinking".
Some MPs have accused Sir Ivan of being "half-hearted" towards Brexit.
Meanwhile, Prime Minister Theresa May is expected to give what is being billed as a "major" speech on Brexit within the next few weeks.
Sir Tim, UK ambassador in Moscow from 2011 to 2015 and an adviser to several previous foreign secretaries, said he was "honoured" to be appointed permanent representative to the EU and promised to work for "the right outcome" for the UK after Brexit.
Downing Street said he had "extensive experience of securing UK objectives in Brussels" and would "bring his trademark energy and creativity to this job".
---
'Wider strains in Whitehall'
John Pienaar, BBC deputy political editor
The resignation of Sir Ivan Rogers has revealed more than the difficulty and complexity of Britain's EU divorce.
It has highlighted wider strains in Whitehall between some mandarins and some ministers, up to and including Theresa May.
Mandarins and ambassadors perennially advise more junior mandarins on the importance of speaking truth to power.
On this occasion, Sir Ivan's leaked farewell memo can fairly be read as a protest and a warning. Concern is growing among some high-ranking officials that ministers don't understand or won't admit the scale of the task they're facing.
---
Foreign Secretary Boris Johnson and Brexit Secretary David Davis both welcomed Sir Tim's appointment and Tom Fletcher, a former UK ambassador to Lebanon, told BBC Radio 4's Today programme: "It's the toughest negotiation in our lifetimes and I think he is up to it. I have seen him in Brussels. He knows the corridors, he knows the characters.
"But actually more importantly I saw him in Moscow where he was incredibly resilient as ambassador there, dealing with (Vladimir) Putin in a very testing time in our relationship and Tim had a reputation of being bulletproof out there."
Former UKIP leader Nigel Farage was less enthusiastic, tweeting: "Good to see that the government have replaced a knighted career diplomat with... a knighted career diplomat."
'Disagreeable messages'
However, BBC diplomatic correspondent James Landale said Sir Tim's record was less likely to be criticised by Brexit supporters than those of some other potential candidates, as it "would be very hard to say that Sir Tim Barrow is an out-and-out pro-European".
Brexit negotiations could begin as early as this April, with the UK government promising to invoke Article 50 of the Lisbon Treaty - which triggers the process - by the end of March.
Erna Solberg, the prime minister of Norway - which is not in the EU but is part of its single market and allows free movement of EU workers - said she feared a "very hard Brexit", involving leaving the single market and the customs union.
She also said: "And we do feel that sometimes when we are discussing with Britain, that their speed is limited by the fact that it is such a long time since they have negotiated (outside the EU)."
In his resignation email to fellow UK diplomats in Brussels, Sir Ivan urged them to challenge "ill-founded arguments and muddled thinking" and "never be afraid to speak the truth to those in power". He said he did not yet know the government's negotiating plans for Brexit.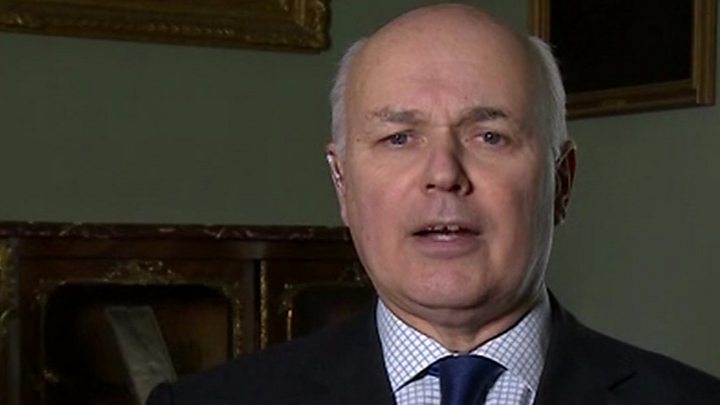 Sir Ivan had previously warned ministers that EU-UK trade talks could take a decade to complete, advice revealed by the BBC last month.
Pro-EU MPs have described the loss of his experience shortly before Brexit talks as a blow to the government's negotiating strategy, but anti-EU MPs have played down the importance of his resignation.
Labour has demanded a statement from the government when Parliament returns from its Christmas and New Year break next Monday.
Former cabinet minister Iain Duncan Smith, who backed Brexit, was among those criticising Sir Ivan, saying that when a civil servant "starts going public", ministers "can no longer trust that individual".
But pro-EU Conservative MP Sir Nicholas Soames tweeted: "IDS attack on Ivan Rogers unforgivable am ashamed a colleague could be so ignorant and rude about an Official of such distinction #buttonup."