Ed Miliband jokes about #flulabour after NBC cameo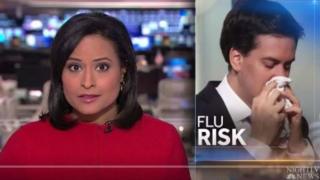 Ed Miliband has joked that he has a "new role in international health promotion" after a surprise appearance on a US TV bulletin about flu.
A picture of the former Labour leader blowing his nose was used by NBC to introduce a news item warning that not enough people were being vaccinated.
The photo was taken at the Labour conference in Liverpool in 2011.
On Twitter, Mr Miliband said he was "proud" of his "new role", coining the hashtag "#flulabour".
The photo, which NBC captioned "flu risk", is the top result from a search for "sneeze" on the Getty picture database.
It triggered a flurry of tweets after viewers recognised the ex-Labour leader.
With the Doncaster North MP blowing his nose in the background, the NBC presenter warned of "fresh concerns" that not enough people were being vaccinated for flu.