Sleaford and North Hykeham voters to choose new MP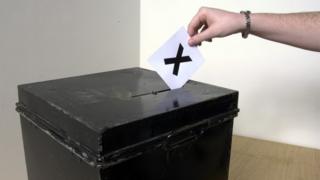 Voting is taking place in the Sleaford and North Hykeham by-election, called to find a replacement for previous MP Stephen Phillips.
Ten candidates are vying for the Lincolnshire constituency, with polls opening at 07:00 GMT and closing at 22:00 GMT.
The weather is set to be cloudy but dry, with a predicted maximum temperature of 13C.
The result of the by-election is expected at about 04:00 GMT on Friday.
The full list of candidates is:
The Iconic Arty-Pole - Monster Raving Loony Party
Victoria Ayling - UKIP
David Bishop - Bus-Pass Elvis Party
Jim Clarke - Labour
Paul Coyne - No description
Dr Caroline Johnson - Conservatives
Marianne Overton - Lincolnshire Independents
Ross Pepper - Liberal Democrats
Sarah Stock - Independent
Mark Suffield - No description