Universal credit architect Lord Freud retires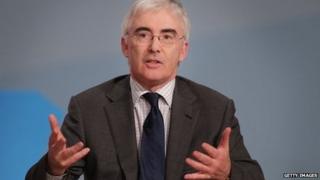 Work and Pensions Minister Lord David Freud - the longest serving government minister in one role - is to retire and take a pension.
He is the architect of the Tories' flagship welfare policy universal credit and has served at the Department for Work and Pensions since 2010.
Work and Pensions Secretary Damian Green praised the Conservative peer for transforming the welfare system.
But the Public and Commercial Services union said he would not be missed.
Apology
Lord Freud first recommended wide-ranging changes to the benefits system in 2007 and was later recruited to the government to push through his ideas.
The peer, who draws no ministerial salary, is the only minister still in the same job from former Prime Minister David Cameron's first round of appointments in 2010.
He attracted controversy in 2014 after suggesting some disabled workers were "not worth" the minimum wage - but he later apologised.
Announcing his retirement, Lord Freud said: "At the heart of our reforms is a desire to give people independence to improve their lives.
"For too long, people have been trapped by a Byzantine benefits system, leaving them powerless.
"This has always been my driving force - to give people back control over their own lives; to give support in times of need, but also to give a clear route out of the benefits system and into independence.
"That's what universal credit does - and I'm incredibly proud of what we have achieved."
'Improving lives'
In a tribute to the peer, Mr Green said: "Everyone comes into government to make a difference, but David's contribution to transforming the welfare system has been outstanding.
"As the architect of universal credit, he combines vision with an impressive attention to detail.
"Moreover, he cares greatly about improving the lives of some of the poorest people in our country."
But a spokesman for the Public and Commercial Services union said Lord Freud would not be missed.
"Among staff in DWP [Department for Work and Pensions], unemployed, sick and disabled people, there'll be no mourning the loss of a man who injected poison into our social security system," he said.
"For years Freud has been at the heart of the cruel and dangerous upheaval of our employment and benefits services, and we'll be glad to see the back of him."
Lord Freud will leave his role at the end of December, after the Queen approved his resignation.
Downing Street said a successor work and pensions minister in the House of Lords would be appointed "in due course".