Richmond Park by-election: Voters going to the polls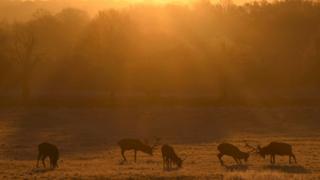 Voters are going to the polls to elect a new MP for the constituency of Richmond Park.
A by-election was triggered in the south-west London seat by the decision of former Conservative MP Zac Goldsmith to resign and seek re-election as an independent candidate.
Polling stations opened at 07:00 GMT and close at 22:00 GMT.
The Conservatives had a majority of 23,015 at the 2015 general election, with the Lib Dems in second place.
Here, are all the candidates, in alphabetical order of surname:
Zac Goldsmith, Independent
Howling Laud Hope, The Official Monster Raving Loony Party
Maharaja Jammu and Kashmir, One Love Party
Sarah Olney, Liberal Democrats
David Powell
Dominic Francis Stockford, Christian Peoples Alliance
Fiona Natasha Syms, Independent
Christian Wolmar, Labour Party