What Theresa May did and didn't reveal in CBI speech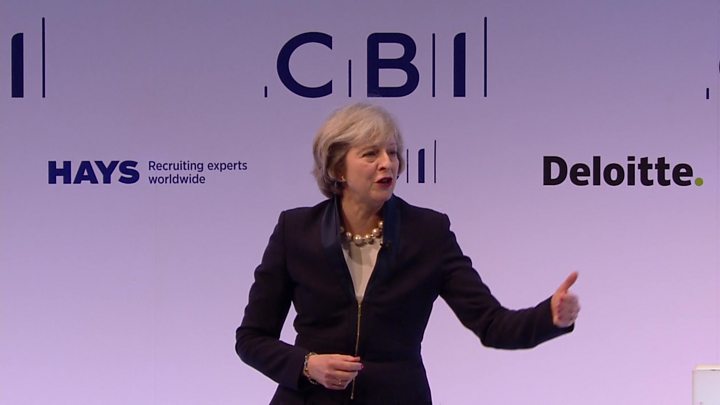 There were no hecklers this year, more a respectful silence as the gathered audience listened to the big name. And despite her talent for saying very little, and indeed, the prime minister's determination to give hardly anything away on her plans for Brexit, this morning at the CBI she did in the end say rather a lot.
No surprises, when it comes to the big picture, the prime minister was abundantly clear (again) that she won't be pushed into giving more details of her plans for how we leave the EU and life afterward. That was despite the fact that she took to the stage moments after the CBI President who could not have been any clearer in making the organisation's demand for more information.
It is five months since the referendum this week, but despite the growing pressure from business and in Westminster, she is not budging. The CBI, a lobby as powerful as they get, basically said, "please, please, tell us what is going on". Theresa May in response minutes later essentially said, "not a chance".
But she did give some things away. While Downing Street denies it's a U-turn, the prime minister scotched any suggestion (including her own) that the government might make companies have workers sitting on their boards. One of the first proposals she made when she launched her bid to lead the country was "If I'm prime minister, we're going to change that system - and we're going to have not just consumers represented on company boards, but employees as well."
You wouldn't have been a fool for concluding that she meant that big firms would therefore have to have staff members on their boards. Not now, according to Downing Street. She said this morning that she never meant that firms would have to appoint workers directly to boards, although some companies may wish to do that.
But there is no coincidence that the policy has undergone what you might politely call an evolution, after business was alarmed. Unions this afternoon have poked fun at what they see as a U-turn, the TUC General Secretary Frances O'Grady saying "If Mrs May says Brexit means Brexit, surely workers on boards means workers on boards".
The government is consulting on its plans. I understand the likely option is company boards to have one director whose sole responsibility is representing workers' views - we'll know in due course.
The prime minister did recommit the government to the target of making British corporation tax - the tax on company profits - the lowest in the G20. It is scheduled to come down to 17 per cent in any case by the end of this Parliament. The trouble with her repeating the previous promise is that since it was made Donald Trump has emerged, with his promise to cut federal corporation tax to 15 per cent.
It is not a direct comparison. But having said last night that the prime minister had to be taken at face value as she made that commitment, government sources today slapped it down with accusations of "pure speculation". But business leaders will have no doubt filed that promise away. Whether May meant it or not, she is on the record as making that promise, a fact not lost on the previous Chancellor, George Osborne, who made the 15 per cent proposal previously and was enjoying its re-emergence today.
But what Theresa May did hint at today, and we are in the business of hunting for hints, was the possibility that there will be an interim agreement with the European Union to run after we leave, but before a final deal can be struck.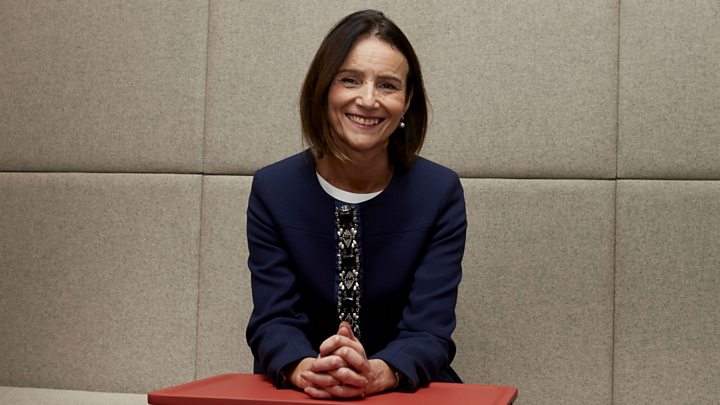 This would risk the wrath of the Brexiteers. But while the specifics of a transitional agreement have not been discussed in Cabinet, one minister explained "a reality check has started to happen" and they suggested that a temporary deal "may have to happen - it's a practical option". No 10 sources are playing down the significance of today's comments with their familiar refrain - they're not ruling anything in, or anything out. But like the promise on corporation tax, that hint will be filed away by politicians on both sides - those who are looking to keep our ties to the EU as tight as possible, and those arguing for a fast, clean exit.
The relationship that Theresa May will have with the business community is one of the most important that she will have, particularly at a time of enormous political and economic uncertainty.
Although business has welcomed her support and promises of extra government spending on research and development and infrastructure, they know that she is willing to criticise too - calling again for a minority of businesses who behave badly to get in line.
One cabinet minister suggested that just as Tony Blair was willing to take on the unions, a Labour leader seeking to appeal to the centre by taking on his party's traditional supporters, Theresa May is keen to do the same, taking on business, a well of traditional Tory support.
But these are early days, and probably not the last time Theresa May will stand on the CBI platform. So far there's a sense that they don't quite know what to make of her. And perhaps, she doesn't know quite what to make of them.