UK must lead on climate change, says Labour's Clive Lewis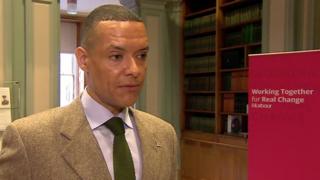 The UK should be showing international leadership on tackling climate change following Donald Trump's US victory, Labour frontbencher Clive Lewis says.
In a speech in London, he said "there is a real danger that, without urgent action, the election of Donald Trump could mean 'game over' for our planet".
He said a Labour government would ensure 60% of UK energy came from low carbon or renewable sources by 2030.
Mr Trump has said he wants the US to leave the Paris Agreement on climate.
The US president-elect has said the deal is "bad for US business" and will allow "foreign bureaucrats control over how much energy we use" and has expressed scepticism about the science behind climate change.
'Mission orientated'
Mr Lewis's speech came as the UK signed a document ratifying the Paris agreement - the world's first comprehensive agreement on tackling climate change.
The shadow business secretary said that while the government had signed the deal, it had "failed comprehensively on showing a lead on climate change".
Mr Lewis told the BBC: "In terms of their record on renewables it's been absolutely appalling, their record on solar, the thousands of job losses, cuts to the various subsidies ... this is a nascent sector, it's a growing sector - or it was a growing sector - and they've pulled the rug away from it."
During his speech he said it was now "time for Britain to show leadership on one of the biggest challenges confronting humanity today - climate change".
He said Labour aimed to develop a "mission-orientated industrial strategy" rather than "picking winners, or pouring good money after bad into white elephants".
"Instead we'll set the missions - put in place the right institutional framework and support - and then let business figure out how to get there. We'll initiate and direct a wave of innovation across a range of industries.
"So today, I'm pleased to announce the first of these missions; the next Labour government will ensure 60% of our energy comes from low carbon or renewable sources by 2030."
Later he told the BBC that there was "potentially a danger" over climate change once Mr Trump becomes US president: "He said quite clearly before the election he's a climate change sceptic.
"America is a leading partner in international climate change agreements... this will struggle to work if America isn't part of it.
"I think it's incumbent on our government, this country, to show real international leadership when it comes to Paris, when it comes to climate change, when it comes to supporting renewables.
"Not just because it's essential for climate change but because it's also a fantastic business opportunity for businesses in our economy to get ahead, to innovate, to become net exporters of technology around clean and efficient energy."
Solar power
The National Grid has said the UK is likely to miss its EU 2020 target to produce 15% of total energy from renewables.
While it said Britain's progress on wind and solar-powered electricity has been quicker than some people expected, the rate of progress towards electric and hydrogen cars needs to almost treble (from 15 terrawatt hours (TWh) to 40TWh) to meet the target.