May urges change, but what kind?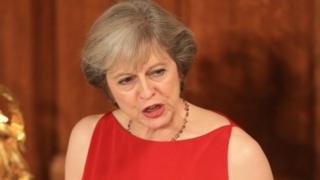 If you don't listen, you lose.
Theresa May tonight has given short shrift to the liberal consensus - the world view that has more or less dominated western politics for decades - accusing those politicians, including by implication many of her former colleagues, of being the "enemy" of true liberalism if they are deaf to the concerns of many ordinary voters.
She has argued strongly before, at the Conservative Party conference and on the steps of Number 10, that too many people have been ignored by 21st Century politics - with fears about security or immigration dismissed too easily by the Westminster village.
But with the election of Donald Trump as well as the UK's decision to quit the EU, the establishment on both sides of the Atlantic has now lost, and been surprised to lose. That gives her argument new force, and a new edge.
Big questions
And although she has little in common with Mr Trump, and one can imagine her private view of some of his more extreme comments being abhorrence, her arguments on how globalisation has left many voters behind has echoes of the president-elect.
Mrs May's image before taking Number 10 was of the ultimate safe pair of hands. In her speech she did defend free trade and liberalism, if it works for all.
Yet since taking office she has attempted to show in fact how much she wants to change, how different she is to David Cameron, how dissatisfied she is with the status quo.
In her speech she took that even further, with an attack on the political establishment she herself has been a part of for years. And it's always worth remembering that in the EU referendum she was on the losing side.
But while making that challenge, and posing those big questions, tonight and frankly any other night, Mrs May is yet to provide many answers.
We are so far learning more about what she does not want to be or to represent. It's easy for any politician to say "change is in the air" - harder to answer what that will really mean for all of us.