Theresa May enters debate on Louis Smith ban at PMQs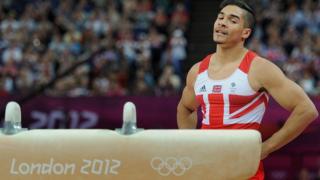 An MP said the row over gymnast Louis Smith's alleged mocking of Islam had left him feeling like he "no longer understood the rules" in the UK.
Conservative Charles Walker said the team GB gymnast had been "hounded" by the media and received death threats.
Olympic medallist Louis Smith was banned over a video allegedly mimicking Islamic prayer practices.
Speaking at PM's Questions Theresa May said there needs to be a "balance" but "we must value tolerance to others".
Mr Walker, the MP for Broxbourne, had asked Mrs May: "When people make fun of Christianity in this country, it rightly turns the other cheek.
"When a young gymnast, Louis Smith, makes fun of another religion widely practised in this country, he is hounded on Twitter by the media and suspended by his association.
"For goodness sake, this man received death threats and we have all looked the other way.
"My question to the prime minister is this: What is going on in this country because I no longer understand the rules?"
'Counter-extremism strategy'
Mrs May responded, saying: "I understand the level of concern that you have raised in relation to this matter.
"This is a balance that we need to find. We value freedom of expression and freedom of speech in this country - that is absolutely essential in underpinning our democracy.
"But we also value tolerance to others. We also value tolerance in relation to religions. This is one of the issues that we have looked at in the counter-extremism strategy that the Government has produced.
"I think we need to ensure that yes it is right that people can have that freedom of expression, but in doing so that right has a responsibility too - and that is a responsibility to recognise the importance of tolerance to others."
Mr Smith told BBC Radio 5 Live last month he had received death threats "every day" since the video became public, but added: "Some people from the Muslim community have been understanding. Some people have been angry, but once I have apologised, they have then said 'we are taught to forgive - we are peaceful'."