Robot tractors 'could help solve post-Brexit farm worker shortage'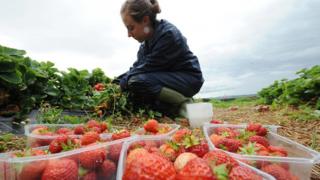 Driverless vehicles could help farmers avoid labour shortages after Brexit, an expert in agricultural technology has said.
Professor Simon Blackmore said that the machines could "replace significant numbers" of seasonal workers.
He said farmers "don't need to have a PhD" to work with the "highly automated" robots.
His comments came after an NFU survey found 66% of growers expected fewer workers to be available by 2018.
Prof Blackmore, head of engineering at Harper Adams University, told the House of Lords' Science and Technology Select Committee that new technology had the potential to be "very disruptive" to the agriculture industry.
Prof Blackmore said: "Farmers dealing with high value crops right now are using seasonal labour, and with the advent of Brexit and possible limitations on seasonal labour, a lot of the farmers I'm speaking to are very, very nervous.
"There is this opportunity... to be able to replace significant numbers of seasonal workers with highly automated machines."
Prof Blackmore added that technological changes would mean farmers would have to learn new skills, saying: "We do need to up-skill the current tractor drivers to become robot operators."
The Lords' Select Committee had invited Professor Blackmore to give evidence for its inquiry into driverless vehicles.
Farmer's union the NFU says the availability of seasonal workers is essential to the competitiveness of the farming industry, with 80,000 currently employed on the UK's farms.
NFU chief science adviser Dr Helen Ferrier said: "An agri-tech sector we can rely on is extremely important in the face of potential political and economic changes in the next 5-10 years which could severely impact the farming industry."
Prof Blackmore argued that farmers felt a move from human to robot labour was a necessity, saying: "The farmers that I'm talking to believe intuitively that this is a good thing, that we need to do this."
Asked if "robotic tractors" could be too expensive for famers he said: "It's not just the cost, it's not being able to get the labour. That's the major factor."
Also giving evidence was the Atomic Energy Agency's Dr Rob Buckingham, who called for more investment in science, technology, engineering and maths education (STEM).
Dr Buckingham said: "We are going to have to have loads more STEM educated people.
"The whole STEM piece is going to become absolutely essential because jobs are going to be using these new, smarter tools."
The Lords' Science and Technology Select Committee is considering the impact of driverless - or autonomous - vehicles as the technology develops.
The committee's chair, Lord Selborne, said "autonomous vehicles are being developed for a range of different purposes and have the potential to bring great benefits across a range of different sectors", including in farming.